Thanks to an outstanding look at roadways and census data by cartographer Michael Zeiler, we know that Kentucky will very likely see a significant surge of traffic on Monday, August 21, 2017, the day of "The Great American Eclipse". That's because there are two cities in Tennessee which are in the "path of totality" located near major interstates. These two cities are White House alongside I-65 and Sweetwater on I-75.
White House, Tennessee is the closest destination for over 27 million Americans to reach the path of totality. According to Eclipse2017.org, the totality in White House will last 2 minutes and 39 seconds and begin at 1:26:54PM CDT.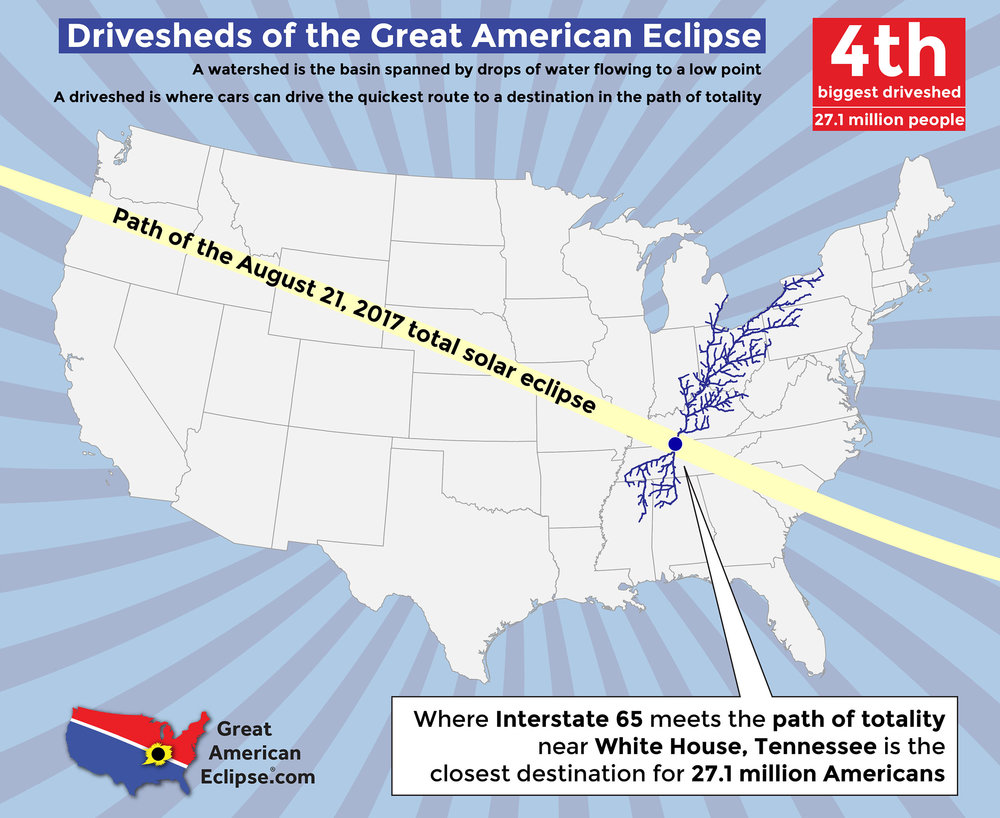 Image credit: Michael Zeiler – GreatAmericanEclipse.com
Congested traffic in Kentucky
In Kentucky, there could potentially be a significant increase in traffic on Interstate 65 and Interstate 75. I-65 goes right through Louisville and Bowling Green and I-75 passes through Lexington. Unfortunately, this will lead to congestion which increases the chances of car accidents as people from Indiana and Ohio pass through in an effort to make it to this spectacular event.
Kentucky State Police issued a notice on Facebook which says they will be towing all disabled or abandoned vehicles along I-24, I-69, the Pennyrile Parkway, Western Kentucky Parkway and Kentucky 91 during the Eclipse weekend for motorist safety.
Totality in Kentucky
We will get totality here in Kentucky, too, in towns such as Madisonville. Madisonville happens to be right on the center line of totality and totality should begin at 1:24:33PM CDT. Someone from Australia has already been spotted here visiting to witness the eclipse. Hotels are sold out everywhere.
Some farmers have been renting pieces of land for people to park their RVs to watch the eclipse and others have been renting their driveways or land as people from out of town arrive in smaller towns to discover hotels with no vacancies. A spot to set up a tent or camper runs anywhere from $25 – $300. Some hotels are allowing people to camp on their lawns.
Will the eclipse cause injuries?
A small uptick in car accidents has already began throughout Kentucky. Unfortunately, while most people watching the eclipse will be doing so responsibly with their family, there will be people drinking and driving and others trying to capture the eclipse while driving or taking selfies on the road to post to their Snapchat, Facebook and Instagram accounts.
If you or a loved one is seriously injured while trying to enjoy the eclipse, contact us for a free and confidential consultation.