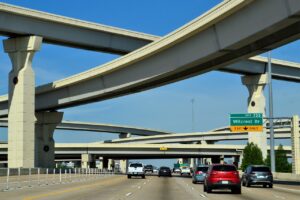 Louisville's interstates can become busier and busier as the afternoon progresses. The extreme levels of traffic rushing across nine and ten lanes in places require that all drivers proceed with caution and keep their attention on the road.
A driver may get careless or reckless and cause a chain-reaction accident that involves multiple vehicles and puts the wellbeing of all nearby motorists at risk. These often high-speed impacts can send vehicles off the road and sometimes send them rolling over.
A rollover is one of the most dangerous types of collisions because it can subject the occupants of cars to powerful forces from many different angles. A victim may strike a steering wheel, a car dash, or the back of a seat. They could also be forced into the door or hit the ceiling.
These frightening collisions can result in severe injuries for victims and lead to long, expensive recoveries.
Interstate Crash Overturns Vehicle in Louisville
An accident closed down the southbound lanes of I-65 in Southern Louisville Tuesday Afternoon. WLKY-TV reports the accident occurred near mile marker 128 near the Fern Valley Road interchange on November 16, 2021.
Officials said that the crash involved the rollover of a vehicle. Information on how many vehicles were involved or if there were victims injured in the accident has not been released.
Louisville Metro Police investigators continue to work to determine the circumstances leading up to the accident.
Seeking Out Support for Victims After a Louisville Accident
Victims left to deal with serious injuries after an impact can wonder where they'll be able to find the funds to cover their days or weeks of hospital care and rehabilitation therapy.
Kentucky law allows for victims to file a claim for damages against an at-fault driver's vehicle insurance. This civil claim is used to earn financial support for the victim's healthcare expenses now and any care that is expected to be necessary in the future. The claim can also provide help with replacing the lost income a victim suffers while missing work.
Contact a Louisville Car Accident Lawyer
If you or a loved one is the victim of a careless driver, please speak with a personal injury attorney serving Louisville before talking to any insurance representative. Insurance companies are well-practiced in the art of convincing victims and their families to accept far less in compensation than they need to fully recover.
Talk to a Louisville Car Accident Lawyer you can trust to be on your side and fight for your family's fair compensation. The attorneys at Kaufman &  Stigger, PLLC, have that knowledge and a combined 100 years of experience in helping clients get the support they'll need to rebuild their lives. To discuss your case in a free consultation, contact Kaufman & Stigger, PLLC today, by clicking here.