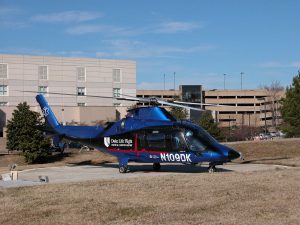 A vehicle trying to pull out onto a busy highway can present an especially high-risk situation for accidents. Vehicles traveling at highway speeds, especially as daylight fades, can make careless drivers misjudge distances and the velocity of approaching cars.
Drivers can also get jumpy when confronted with fast-moving traffic from both directions, leading to a rash decision to "go for it."
Kentucky's state highways present well-known dangers for drivers at any time of day as documented by the State Police each year. In 2019, officers found that 35% of all collisions in the state occurred on Kentucky's "State Numbered" roads, with 49% of all fatal collisions in the state reported on these hazardous state routes.
Three-Vehicle Crash in Lewis County Sends Multiple Patients to Hospital
A frightening three-vehicle collision along the AA Highway in Lewis County Monday evening left four people with injuries. WSAZ-TV reports the accident occurred at the Grayson Spur of the AA Highway/Kentucky Route 9 on December 28, 2020.
The Sheriff says the driver of a white pickup truck was attempting a left turn onto the highway when it struck a van. The van was sent across the highway dividers into another pick-up truck.
Two people in the second truck were airlifted to the hospital. A third person in the pick-up and a victim in the van were taken by ambulance to the hospital. Their conditions haven't been released. The investigation into the accident continues.
Help for Lewis County Accident Victims
The days after a devastating accident can be a confusing time for victims. People hurt and hospitalized can be dealing with a difficult recovery from serious injuries. They can also be worried over the incredible costs of treatment and their lost time at work, all over a collision that wasn't their fault.
Victims are permitted to bring a claim for damages against the at-fault driver and his or her insurance company to get help in their time of need. Those hurt can be left with head trauma and the debilitating symptoms of traumatic brain injury (TBI). Spinal cord damage can rob patients of mobility temporarily or permanently. Broken bones are also a real possibility and can keep victims out of work for weeks and months.
A civil claim can help ensure that insurance companies can ignore every factor you've faced since being sent into a powerful collision. They can be responsible for paying for your care up to this point and any needed care or surgeries in the future. Your lost paychecks can also be covered. Even emotional trauma you might have been up at night dealing with can be considered when the amount of compensation you should receive is evaluated.
Contact a Kentucky Auto Accident Lawyer
Accident victims often wonder if they need an attorney, and the answer is almost always yes. The insurance company agents have years of experience and are good at their job which is to pay you as little as possible or nothing at all. You need someone just as experienced to help you level the field.
Talk to a Kentucky Personal Injury Attorney you can trust to be on your side and fight for your fair compensation. The attorneys at Kaufman &  Stigger, PLLC, have that knowledge and a combined 100 years' experience in helping clients get the compensation they'll need to make a full recovery. To discuss your case, contact Kaufman & Stigger, PLLC today, by clicking here to contact them online.