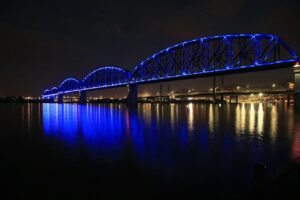 Louisville is connected to Indiana by several bridges spanning the Ohio River. Travel often gets hazardous on these routes. Lanes can be narrow and there aren't a lot of spots for vehicles to pull over or swerve to avoid another driver.
One motorist's mistake can endanger drivers and passengers in vehicles traveling alongside. A careless driver can also wind up in the path of oncoming traffic. A resulting collision could leave victims with serious injuries and in some cases, fighting for their lives.
Clark Memorial Bridge Accident Causes Injury in Louisville
A multi-vehicle accident on the Clark Memorial Bridge in downtown Louisville led to at least one injury over the weekend. WHAS11-TV reported the incident occurred Sunday morning on the 2nd Street/Route 31 Bridge on January 2, 2022.
Metrosafe confirmed the accident involved three vehicles. All four lanes of the bridge were blocked by vehicles at one point.
Kentucky investigators say at least one person suffered injuries. The cause of the accident has not been released.
Seeking Financial Support for Louisville Accident Victims
Victims of major Louisville accidents will often wonder where they can turn to get help with the extreme costs of care after a serious accident. Hospital bills can come due while patients are missing work with their injuries. Those lost paychecks also leave victims behind on their monthly bills, car payments, and rent or mortgage payments.
At-fault drivers should be totally responsible for these hardships through their car insurance coverage. Insurance adjusters should stand by, ready to help victims with every financial challenge they face in recovery. Unfortunately, insurance companies can focus on limiting the financial support they provide instead of being helpful to those hurt in accidents.
Contact a Louisville and Southern Indiana Car Accident Lawyer
Accident victims often wonder if they need an attorney, and the answer is almost always yes. Insurance company agents have years of experience and are good at their job which is to pay you as little as possible or nothing at all. You need someone just as experienced to help you level the field.
Talk to a Louisville Car Accident Lawyer you can trust to be on your side and fight for your fair compensation. We are also licensed to assist victims and their families living in Indiana.
The attorneys at Kaufman &  Stigger, PLLC, have that knowledge and a combined 100 years of experience in helping clients get the compensation they'll need to make a full recovery. To discuss your case, contact Kaufman & Stigger, PLLC today, by clicking here to contact them online.