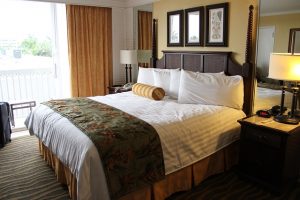 Most people have absolutely no desire to ever file a lawsuit in their life, however after being injured, many insurers attempt to minimize what they should pay out on an injury claim. Don't let this happen to you. Serious injuries may last a lifetime and you should be properly compensated.
Kentucky Hotels should keep guests safe
When we are guests in a hotel, we expect that the hotel will keep us safe. Hotel proprietors have a duty to protect guests from foreseeable dangers.
If a hotel proprietor, owner, manager, or even employee fails to exercise proper care and a guest is injured, that's considered negligence. The relationship between innkeeper and guest implies that the hotel grounds are maintained in a reasonably safe condition at all times.
Injuries at hotels could be, but are not limited to:
Slip and Fall Accidents / Slippery floors
Negligent or Inadequate Security
Swimming Pool Accidents
Kentucky Law Governing Hotels
We have many friendly hotels in Louisville and all over the state including Hilton Garden Inn, Homewood Suites, Embassy Suites, Best Western, Red Roof Inn, Residence Inn, Hapton Inn and the Ramada, just to name a few. While staying in these hotels, inns, and bed and breakfasts, guests are protected by the Commonwealth's premises liability laws.
All property owners, including hotel and inn owners, have a legal obligation to make sure that their property is reasonably safe for their guests and visitors. The legal term for this is a "duty of care." If a property owner (or manager representing that owner) violates their duty of care, they can be found legally responsible for any and all injuries that occur as a result of that negligence.
Proving Hotel Negligence
However, proving that a property owner or manager breached their duty of care can be quite difficult, and often hinges on what is considered "reasonable." To win a premises liability case, you must prove either:
The hazardous condition was the result of actions of the property owner.
The owner was previously aware or should have been aware of the hazardous condition.
The owner did not take action to remedy a known hazardous condition within a reasonable amount of time.
The owner did not take action to warn visitors of the hazardous condition.
In addition, the victim has to show that he or she was legally on hotel property at the time, and that the hazardous condition actually caused injury.
And proving this is necessary to secure compensation for any medical bills, lost wages, rehabilitation, and pain and suffering that were a result of your injuries. That's why you need a knowledgeable attorney who can put together a compelling case on your behalf.
Contact a Hotel Accident Lawyer today
The proven personal injury lawyers at Kaufman & Stigger, PLLC, have years of experience when it comes to premises liability claims. Contact one of our friendly representatives at (502) 458-5555 to learn whether you have a viable case and find out how we can help you secure the compensation you deserve.