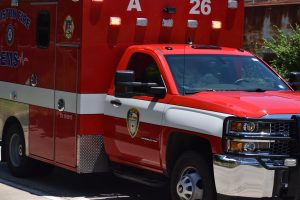 A vehicle crossing over into the path of oncoming traffic can be the most dangerous mistake possible on Kentucky roads.  A head-on collision can result and cause irreparable damage and change lives forever.
The Kentucky State Police document the terrible consequences of collisions on our roads every year. By their 2019 count, only around 3% of the accidents in the state involved a head-on collision, but a heartbreaking 30% of all fatal accidents recorded for the year involved a head-on collision.
A careless driver can glance down or look away from the road for a moment and slowly veer into the direct path of an innocent driver causing a terrible collision.
Two Victims Killed in Sharpsburg Collision
Two people tragically lost their lives in a two-vehicle collision on Thursday in northwest Bath County. WTVQ-TV reported the accident happened on Highway 11 near Fairview Road in Sharpsburg on December 24, 2020.
Kentucky State Police say a Ford F-150 truck crossed into the lane of their vehicle and caused the collision. The married couple who were the victims have been identified as a 62-year-old man and a 57-year-old woman.
Two people in the Ford truck were taken to the UK Hospital. Their conditions have not been released. The investigation into the accident continues.
Support for Sharpsburg Accident Victims and Families
After tragedies on the road, families can receive the tragic news of lost loved ones and have little idea what to do next. Soon the family will be targeted by the incredible expenses that arise after an accident, all due to the mistake of a careless driver.
Families seeking some sense of justice after a collision may be forced to bring a wrongful death claim forward. This would hold the at-fault driver's insurance under intense scrutiny and put pressure on their agents to provide proper compensation to the family that's been devastated by their policyholder's error.
Compensation from this civil lawsuit can't bring back a beloved family member, but it can provide for the family now and in the future. Ambulance and hospital fees and funeral expenses can be covered so that they don't lead to financial ruin for the family. A claim can also ask for money to replace the financial support the victims would have provided their families in the years to come. Extreme emotional anguish experienced by the family can also be factored into compensation.
Contact a Lexington Wrongful Death Lawyer
If your family has been devastated by the loss of a loved one to a tragic accident, please contact a local attorney who can make sure you are allowed to grieve without having to worry over a financial disaster for your family. Your loved ones didn't cause this accident, and the family left behind should never have to face the consequences alone.
Talk to a Lexington Wrongful Death Attorney you can trust to be on your side and fight for your fair compensation. The attorneys at Kaufman &  Stigger, PLLC, have that knowledge and a combined 100 years' experience in helping clients get the compensation the family will need to protect their future. To discuss your case, Kaufman & Stigger, PLLC today, or click here to contact them online.