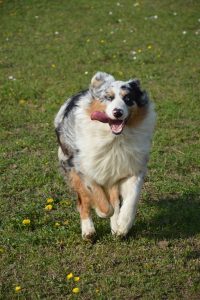 If you or a loved one has been injured in a motorcycle accident, contact us right away for a free consultation. Kaufman & Stigger, PLLC is on your side. We have a long history of representing motorcycle accident victims throughout Kentucky and Indiana.
Can Dog Owners be held liable for motorcycle injuries?
Kentucky is a strict liability state and dog owners are responsible for their canines and dog bites. If a dog chases a motorcycle or bicyclist, the owner could be held liable depending on the dog's history. If you've been injured on a bicycle or a motorcycle because a dog chased you and you swerved to avoid it or it ran into you, it is best to consult with an experienced motorcycle accident lawyer who can advise you of your legal rights and options.
Why do dogs chase things?
Not all dogs chase things but some dogs love chasing wheels, bikes, motorcycles, lawnmowers, ATVs, cars and trucks. This behavior is usually developed at a very young age and they can't help but run after these objects just like they're chasing a rabbit or a squirrel. Dog owners who have dogs like this know this and should always keep them on a leash or behind a fence to prevent injuries. Some dogs have chasing embedded in their DNA such as various types of shepherds and collies and may think they're herding these objects. Other dogs such as labs and dalmatians give chase simply out of fear.
Boyd County Motorcycle Accident with Dog
Possibly the most tragic example we've heard of a motorcycle accident involving a dog was a man who was killed in Boyd County. A woman was also on the motorcycle and was sent to the hospital. According to WSAZ, the Greenup man was riding along Route 5 when they hit a dog and both riders were thrown from the motorcycle in the crash. In this case, we're not sure if the dog was simply crossing the street or if the dog was trying to intercept the motorcycle.
Contact a motorcycle accident lawyer
Whether your claim involves injuries, a fatality, a negligent party's insurance or your own insurance, it is in your best interest to consult with a motorcycle accident lawyer after any motorcycle crash. Our page about motorcycle accidents contains answers to a wide variety of frequently asked questions.
For more information and a free case consultation, please call (502) 458-5555 or (800) 937-8443.