Wearing a helmet on a bicycle or scooter is always a good idea and has been proven to reduce the severity of traumatic head injuries. However, as of July 2018, adults are not required by law to wear a helmet to ride a Lime scooter in Louisville.  This law is subject to change.
Of course, we strongly encourage anyone getting on a scooter, bicycle or motorcycle to wear a quality helmet.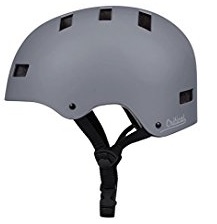 Classifications of scooters vary from state to state and generally lag behind technology. With dockless, electric, shared scooters popping up all over the country from Lime, Bird ans Spin, most states are left sticking scooters into a category such as "bicycles" or "mopeds". Even though Lime scooters have a top speed of 15MPH, some states have threatened to classify them as "motorcycles".
Kentucky's bicycle helmet law:
This law may be changing soon. As of July 2018, you must wear a helmet if you are under 18 years old and you are riding in any Metro Park. House Bill 52, also known as "TJ's Law", is working its way towards becoming a law. If and when it's passed, kids under the age of 12 will be required to wear a helmet.
Moped helmet law:
Louisville-Jefferson County Metro Government traffic laws state in section 71.25 that to drive a moped, you must be 16 and have a valid operator's license. There are additional restrictions for children under the age of 18. It also states that "No person shall operate or ride as a passenger on a moped unless that person wears approved protective headgear and an approved eye protective device required for motorcycle operators and passengers, which protective headgear meets the minimum requirements prescribed by the Secretary of the Kentucky Transportation Cabinet under 601 KAR 14:010."
Kentucky's motorcycle helmet law:
Kentucky's current motorcycle helmet law was last ammened in 1998 and requires helmet use by
Motorcycle operators and passengers under the age of 21;
Motorcycle operators who possess a motorcycle instruction permit;
Motorcycle operators who have had an operator's license for less than one year.
Get a free Lime helmet:
At the time of this article, Lime isn't here just yet. But they will be soon. When they arrive they'll likely give out free helmets. From the Lime Help page: "Whenever possible, Lime distributes free custom-designed helmets to the communities we serve as a way to educate our riders." They currently distribute free helmets to riders in other cities.