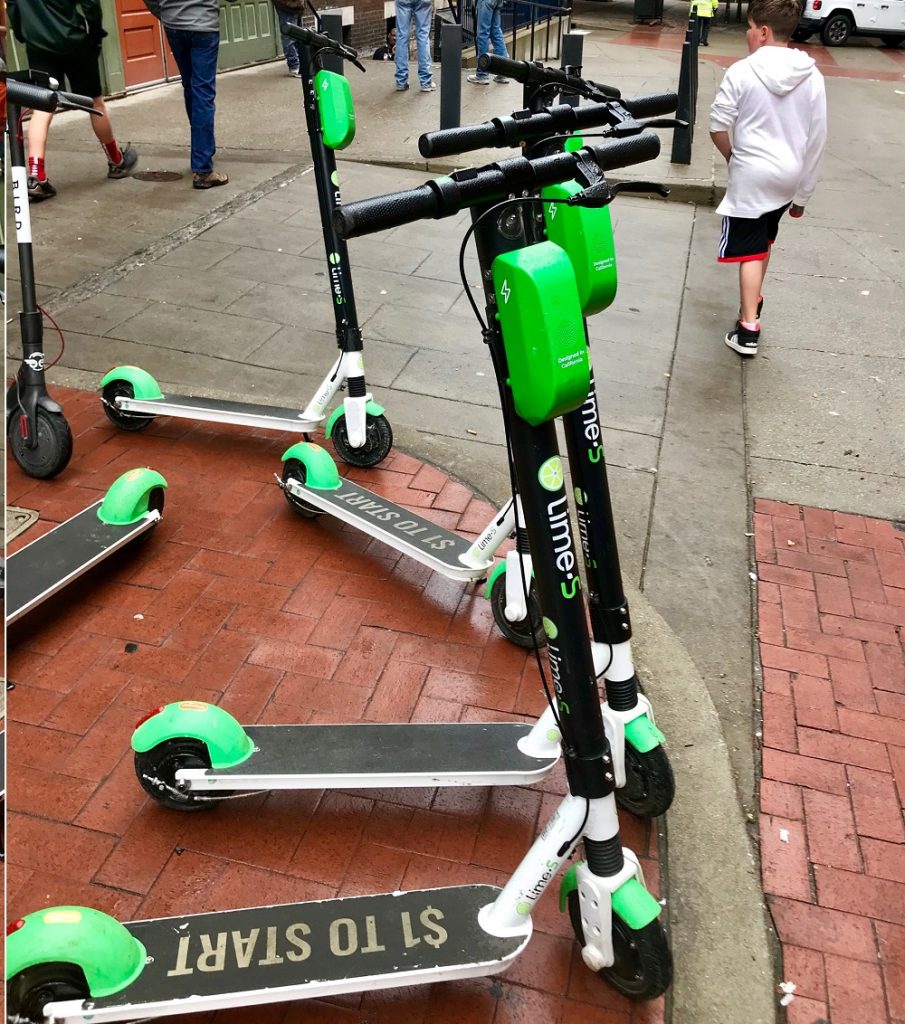 It appears that rentable e-scooters are growing on Louisville locals. New stats from Louisville's Office of Advanced Planning show e-scooter usage reached a peak of 1,638 daily rides in May of 2019.
In total, the city's database registered roughly
49,100
e-scooter rides in May. The busiest day of the year for e-scooters was on May 24 with an impressive 3,000 rides.
By contrast, it was difficult for daily e-scooter rides to exceed 500 on most days between August and December of 2018. Indeed, the highest days for e-scooter usage last year were on November 16th and 23rd, both of which had about 1,100 daily rides.
Analysts note that the vast majority of e-scooter rides only last 25 minutes or less. The data also suggests most people use e-scooters on afternoon lunch breaks and don't travel outside a 2.3-mile radius.
The most obvious reason for the sudden surge in e-scooter usage most likely has to do with Louisville's warmer weather. Local authorities also pointed out that more tourists were in the city for high-profile events like the Kentucky Derby and the Kentucky Oaks.
As the summer advances and the weather improves, it's expected these e-scooter figures will rise in Derby City. To meet this increased demand, the Louisville Metro recently decided to increase the number of e-scooter companies allowed in the city from four to eight.
The companies who currently hold a permit to operate in Louisville include:
Lime
Bird
Spin
Jump
Bolt
Lyft
HOPR
Although Jump, Spin, and Lyft could legally send e-scooters into Louisville, they all don't seem interested at this time. Bird and Lime, however, have already been operating in Louisville for months. Executives from Bolt said they are gearing up for a summertime launch, but there's been no word yet from HOPR.
Under the city's permitting agreement, each e-scooter company is only allowed to bring 150 dockless devices into Louisville at the start of their 6-month probationary period. Companies could only expand their fleet by 100 devices per month if they average four rides per day per device. Within their six-month trial, however, companies cannot exceed 650 devices.
Bird was the first company to dump rentable e-scooters throughout Louisville in the summer of 2018. City leaders swiftly placed a ban on Bird devices, but they have since reached an agreement with the e-scooter giant.
San Francisco-based Lime, Bird's largest rival, entered an agreement with Louisville in November of 2018. As of today, both Lime and Bird remain the dominant players on Louisville's e-scooter scene.
For more information on Kentucky's e-scooter laws, feel free to click on this link to see the text of House Bill 258. This law clearly lists all of the restrictions placed on e-scooter devices.