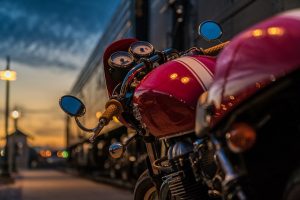 Kentucky drivers who hit motorcyclists often claim they never saw the rider coming. Often, this is just another way of saying they didn't take the time to look out for motorcyclists when entering an intersection or trying to make a turn.
This negligence of attention can place riders and passengers in the hospital with severe injuries. If they can manage a full recovery, they'll still face enormous hospital bills all over an accident that wasn't their fault.
Two On Motorcycle Hurt After a Collision with SUV in Louisville
Two motorcycle riders suffered injuries in an intersection collision with an SUV Saturday night in the St Denis Neighborhood of Louisville. WAVE-TV reports the accident occurred around 9 p.m. at the intersection of Terry Road and Cane Run Road on May 7, 2022.
An investigation by the Louisville Metro Police Department initially revealed the motorcycle operator and a passenger were thrown from the bike after crashing with an SUV in the intersection.
The two riders were rushed to University Hospital. One person is listed in critical condition. The condition of the other victim was not reported. LMPD officers continue to determine what caused the accident.
Fighting for Support for Louisville Motorcycle Accident Victims
Motorcycle accident victims must beware when trying to secure recovery support after a collision involving a car, truck, or SUV. Insurance companies for at-fault parties like to shift blame to riders for any accident, no matter what a police collision report says. They like to take advantage of stereotypes for motorcycle riders in order to avoid having to accept liability for their policyholder's mistake.
Motorcycle riders must demand full compensation for their medical invoices. They must also seek reimbursement for every hour of work they miss. A motorcycle accident settlement check must also factor in the emotional trauma victims endure while being off their bikes.
Contact a Louisville Motorcycle Accident Lawyer
Sadly, victims must monitor every move an insurance company makes in the wake of a serious motorcycle collision. Insurance adjusters often delay payment to victims in order to get them desperate enough to accept any amount. A motorcycle injury attorney rejects these "lowball" offers and fights for more for victims and their families.
Talk to a Louisville Motorcycle Accident Attorney free of charge, to make sure you are aware of your rights. The attorneys at Kaufman &  Stigger, PLLC, use a combined 100 years of local experience in helping clients and their families secure fair support in the wake of a tragedy. To discuss your case, contact Kaufman & Stigger, PLLC, today, by clicking here to schedule today.