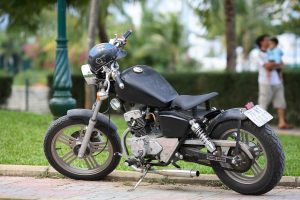 Motorcyclists in Louisville are often rendered invisible to careless drivers who don't spend enough time checking traffic before proceeding with a lane change or a turn. With so little attention paid to nearby traffic, motorists can miss spotting a rider and make a move that leaves only a few moments of reaction time.
Riders can have too little warning to avoid a dangerous impact. A collision may be next and in heartbreaking cases, the injuries may be serious enough to threaten a victim's life.
Motorcyclist Killed After Weekend Collision with Vehicle in Louisville
A tragic accident claimed the life of a motorcyclist who was killed in southwest Louisville on Sunday evening. The Louisville Courier-Journal reported the accident occurred around 6:45 p.m. on the Greenbelt Highway near Raggard Road on October 24, 2021.
Louisville Metro Police say the rider was traveling north on the highway when the motorcycle collided with a vehicle in the southbound lanes attempted a left turn on Raggard Road.
The person on the motorcycle was pronounced dead on the scene. A passenger in the vehicle was transported to the hospital with what were described as non-life-threatening injuries.
The identities of the people involved have not been released. The circumstances surrounding the accident are still under investigation.
Providing Assistance to Families After a Louisville Motorcycle Accident
Families may feel like they have little chance of earning justice after losing a loved one in a motorcycle accident. The drivers at fault may say they didn't see the rider, but that doesn't excuse them from their duty to the victim and the victim's close relatives.
A wrongful death claim is filed against the at-fault driver's car insurance policy. This civil lawsuit seeks to earn financial support to help close relatives pay for things like a memorial service and burial. The money can also be used to cover ambulance and emergency response charges from the night of the accident.
A wrongful death claim is also utilized to protect close family members in the future as they must move on without the guidance a loved one provided and the income he or she brought in through employment.
Contact a Louisville Wrongful Death Attorney
Families should be provided all the time they need to grieve a tragic loss after a motorcycle accident. Sadly, they must monitor every move an insurance company makes in the wake of a collision. Insurance adjusters often try to blame motorcyclists for their own accidents no matter what an accident report says. This is a "bad faith" practice that is used to avoid paying a victimized family the support they need.
Talk to a Louisville Wrongful Death Lawyer to make sure your family is made aware of their rights. The attorneys at Kaufman &  Stigger, PLLC, use a combined 100 years of local experience in helping clients and their families secure the support that's only fair in the wake of a tragedy. To discuss your case, contact Kaufman & Stigger, PLLC, today, by clicking here to schedule a free consultation.