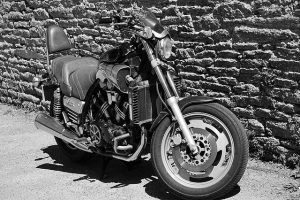 If you or a loved one has been injured in a motorcycle accident, contact us right away for a free consultation. Kaufman & Stigger, PLLC is on your side. We have a long history of representing motorcycle accident victims throughout Kentucky and Indiana.
Motorcycle Crashes and Vehicles Turning Left in Louisville
In an exhaustive study of motorcycle accidents, the U.S. Department of Transportation "Hurt Report" concluded that about 75 percent of all motorcycle crashes in the United States involve an impact with another motor vehicle. In those collisions, the other vehicle was usually a passenger car. In about 65 percent of those crashes, the driver of the passenger car failed to yield the right-of-way to the motorcyclist. In the context of failing to yield the right-of-way, the most frequent fact pattern found was the driver of the passenger car turning left in front of a motorcyclist more than 40 percent of the time.
Some people just don't see them
Even during daytime hours with their lights on, motorcycles present a smaller profile in traffic than a passenger vehicle. Other drivers who caused accidents with motorcycles often relate that they either didn't see the motorcycle or didn't see it until it was too late. Oncoming lights or glare from the sun are sometimes blamed for not seeing the motorcyclist. Visibility might present some difficulties, but it doesn't reduce a driver's duty to maintain a proper lookout before making a left turn.
Even at night, the single light of a motorcycle sometimes confuses drivers. A recent crash in Louisville took place on Bardstown Road at 11:15PM. According to WDRB, a Honda CRV tried to take a left onto Bardstown Rd. from Fegenbush Lane, and the 34yr old old motorcyclist hit the SUV. Tragically, he later died from his injuries at University Hospital.
Misclassification of accidents
The "Hurt Report" also tragically found that the motorcyclist typically has two seconds or less to avoid a collision. Some accidents that didn't involve a motorcycle colliding with another vehicle were actually found to be misclassified as single vehicle accidents. They really resulted from a motorcyclist avoiding a collision with another vehicle that pulled in front of him or her.
Rider injuries from left turn crashes
According to the National Highway Transportation Safety Administration, 80 percent of all motorcycle crashes involve injuries or fatalities. As per the U.S. Centers for Disease Control and Prevention, head and neck injuries are the most common injuries suffered by motorcyclists involved in collisions. In left turn accidents, head and neck injuries can include permanent traumatic brain and spinal cord injuries that result in lifelong disabilities. Other common injuries resulting from a motorcyclist impacting with a vehicle turning left include:
Facial, chest, shoulder and arm fractures
Damage to internal organs
Spinal fractures
Hip and pelvic fractures
Contact a Louisville Motorcycle Accident Lawyer Today
If you were involved in a motorcycle crash in or around Louisville involving another vehicle turning left in front of you, or if you lost a family member in such an accident, phone or email our offices to arrange for a free consultation and case evaluation. Motorcyclists have the same rights as anybody else on the road. Invoke those rights, and contact us when you've been injured through the carelessness and negligence of somebody else.