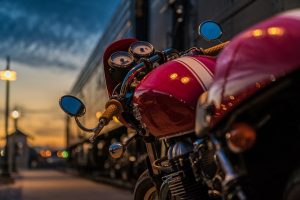 Motorcycles accelerate quickly and move right along when you have the throttle opened up. There is usually a point in every motorcyclist's life where they will speed. The same goes for anyone who owns a sports car such as a Mustang or a Corvette. Even the most responsible Harley Davidson and Kawasaki owners like to give it some gas when the coast is clear.
But what if someone else causes you to crash while you're speeding?
Injuries while speeding
In most cases you can still be compensated for injuries if you were speeding.
If there are serious injuries or a fatality, expect an insurer to point their finger at the motorcyclist and accuse them of being at fault for the accident. Insurers hear from injured people all day long every day and make money by denying claims.
Kentucky is a pure comparative negligence state. If you were partially at fault for a motorcycle accident that caused you injuries, that does not bar you from recovering damages.Even if it is determined that you were partially at fault, you still have the right to recover for your losses. If you were going too fast but someone runs a red light or pulls in front of you causing your wreck and devastating injuries, you're going to want to consult with an experienced motorcycle accident lawyer.
A recent crash
Police are still investigating this crash, so that facts are unclear. However, WDRB is reporting that a tragic accident occurred in Louisville Friday night, October 6, 2017. According to police a car "made an opposing turn in front of the motorcyclist". You can see the side of the silver sedan crushed in on the video in the article. Unfortunately, the motorcyclist was pronounced dead at the scene. At this time we are not certain if the motorcyclist was speeding or how fast they were going.
Contact a Louisville personal injury lawyer today
We represent clients throughout the entire state of Kentucky and parts of Indiana as well. If you were injured or a loved one was tragically killed in a motorcycle accident, contact us right away for a free consultation. We are personal injury lawyers with a long history of representing motorcyclists.