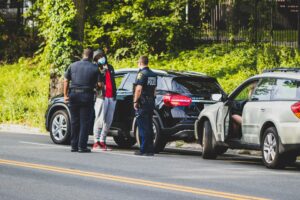 Kentucky motorists travel many different types of roads each day. Our state is crisscrossed by interstates and major highways but is also home to curvy, scenic backroads. Traffic levels also shift from busy city streets in Louisville and Lexington, to lightly used country byways in rural counties.
Unfortunately, careless drivers make accidents a possibility no matter where and when you drive in Kentucky. The consequences of one motorist's mistake are the result of just one vehicle. Chain reaction collisions are always a risk when drivers allow themselves to become distracted or reckless and take their eyes from the road.
Kentucky protects people injured in accidents by empowering them to file a claim for damages with an at-fault driver's insurance provider. Sadly, it's when these giant insurance companies come into play, the victims often receive inadequate settlements and end up having to pay for their own medical care.
Earning Support For Kentucky Accident Victims And Their Families
The car accident lawyers at Kaufman & Stigger, PLLC, fight every day to make sure accident victims aren't robbed of fair compensation for what they've been through. We believe victims fighting through a difficult recovery should never be held financially responsible for their hospital bills and the lost wages they suffer while missing work.
The skilled attorneys at Kaufman &  Stigger, PLLC, have a combined 100 years of experience in helping victims and their families secure the compensation they'll need to fully recover. So to discuss your case in a free consultation session, contact a car accident lawyer at Kaufman & Stigger, PLLC, today.
What To Do After A Kentucky Traffic Accident
Some of the strongest evidence to prove your innocence in a collision is on the scene in the moments after a crash.
If you are physically able, or if someone with you is able to help, try to collect these important details:
Call 911. No matter how minor your accident appears, let paramedics evaluate your injuries and allow officers to file an accident report.
Take photos of everything. Get pictures of visible injuries, vehicle damage, license plates, skid marks on the pavement, traffic lights, and lane markings.
Exchange information with other drivers, but do not discuss the circumstances of the accident.
Get contact information from any witnesses.
Note the presence of security cameras at nearby businesses or homes.
Make an appointment with your physician to document your injuries.
Don't make statements to insurance representatives. Insurance adjusters will call you asking for a recorded statement. Decline. Let your attorney handle all communication.
Contact a personal injury lawyer. Learn all your rights and the benefits available to you.
Why Do I Need A Car Accident Lawyer?
After a collision on a city street or a country road, you may wonder if you need a personal injury lawyer? The answer depends on the circumstances of your accident.
If you are in a property-damage only accident, you may not require the help of an attorney to secure money for repairs or replacement. However, if any of these factors apply to your crash, you are wise to seek legal counsel:
Your accident involves a serious injury.
An insurance company attempts to wrongly blame you for the entire accident or part of the accident.
Your collision involves multiple cars and drivers.
If you've been in an accident with a government employee or a public transportation vehicle.
How Does No-Fault Insurance In Kentucky Affect My Case?
Kentucky is a "choice no-fault" insurance state. This means that most drivers will file accident injury claims with their own insurance providers regardless of who was at fault. The "choice" part means that drivers can opt for a traditional car insurance policy if they choose.
Many people think that when they deal with their own insurance agent, they'll automatically get fair treatment and everything they need in compensation. This is not true. When you file a claim with your own insurance company, you'll still be battling common insurance tactics to try to get you out the door with as little financial support as possible.
You'll still need a personal injury lawyer working for your best interests when requesting compensation from your insurance agency. If you don't, you may find you're paying for more than half of your hospital bills out of your own pocket.
Even when you have no-fault insurance, there are exceptions that allow you to file a claim against the at-fault driver's car insurance policy. For example, when your medical bills total more than $1,000 in Kentucky, you may seek additional money from the liable driver's insurance company.
Kentucky Personal Injury Claims Process
Accident Case Consultation
Free case evaluation with Kaufman & Stigger, PLLC, to determine your best options.
Case Preparation
Your personal injury attorney prepares a strong case for you by collecting evidence and preparing a list of damages to submit in an insurance claim.
Negotiating An Insurance Settlement
Demanding the most support possible for your injury and blocking common insurance tactics to reduce your compensation.
Earn Compensation
You and your attorney agree to a fair offer. You'll receive money to pay for your medical care and to reimburse lost time at work.
How Long Do I Have To File My Accident Claim In Kentucky?
Kentucky has a shorter statute of limitations on personal injury claims than many other states. Our state only allows up to one year after an accident to file a claim over an injury. For property damage, victims have up to two years to file.
One year is not a long time in the legal realm. It's also important to give your personal injury lawyer as much of a headstart as you can on your case. In the early going, evidence will be easier to gather and witnesses will be easier to locate. It's also important to note that the sooner you turn your case over to a personal injury expert, the sooner you may be able to secure the financial support you need.
What Kinds Of Things Can I Earn Compensation For After An Accident?
Your car accident lawyer should have years of experience in negotiating and litigating for fair compensation for injured victims and their families. He or she will know every factor to include in a claim for damages, including some hardships you may not have considered.
A claim for damages should seek financial support for the following and more:
Medical bills now and those expected in the future.
Rehabilitation treatment/equipment.
Travel costs during recovery.
Lost time from work including expected lost wages in the future.
A lifetime of support in the event of a permanent disability.
Pain and mental trauma the victim has experienced.
Loss of consortium for close family members of the victim. (Being without the support of a spouse, partner, family member, etc.)
Wrongful death. A family should earn compensation after losing the guidance and financial support a loved one provided.
What If I Was Partially To Blame For My Collision?
Thanks to comparative negligence statutes, you can share partial liability in an accident and still receive injury compensation from another driver.
Kentucky operates under the concept of pure comparative negligence, meaning that drivers can share blame in an accident and be assigned anywhere from 1% to 99% of the responsibility. This means you may be found 25% to blame, 50% to blame, or 98% to blame. As long as the other driver or drivers involved accept at least 1% of the liability, you can seek damages.
You might be assigned 20% of the blame in your accident and the other driver may bear 80% of the blame. When an award total is determined for your injury, you would take home the amount minus your 20% of liability.
Frequently Asked Questions
Will My Car Accident Lawyer Bring My Case To Court?
Usually not. The vast majority of personal injury cases are settled long before they ever reach a courtroom. Insurance companies often give in and extend a fair settlement offer rather than face the costs and bad publicity that come with a trial.
What Tactics Do Insurance Companies Use In Injury Cases?
Insurance companies will try to reduce the compensation paid out to victims by stalling and waiting until a victim is desperate for support to extend a lowball offer. They will also try to shift blame to innocent victims and dig up past accidents and injuries to erode their credibility.
What If A Rideshare Driver Or Truck Driver Causes My Accident?
A personal injury attorney will help you determine whether the company that employs the driver can also be held accountable for your damages and injuries. You may be able to seek compensation from both the driver and his or her employer.
Contact A Kentucky Car Accident Lawyer
Don't trust an insurance company to tell you everything that's available to you and your family after a serious accident. Insurance companies aren't required to inform you of your rights as a victim. But that won't matter when you have a skilled auto accident attorney safeguarding your interests.
At Kaufman & Stigger, PLLC, we strive to secure the most compensation possible while also leaving victims free to focus on recovery and getting back to their normal routine.
Trust your injury recovery to a Kentucky law firm with an extensive history of successfully fighting for the benefit of local victims and their families. Contact Kaufman & Stigger, PLLC, for a free case evaluation that comes with no obligation to you. Finally, if you allow us to represent your case, we don't accept payment until we win your case for you.
Additional Resources: