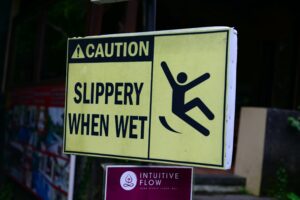 Every person who owns or occupies real estate has the legal responsibility to ensure that their premises is safe for others who are on or inside of it. So if a Kentucky owner or occupier of real property fail to keep their property safe and free from hazards, and cause a visitor to that property to suffer a slip-and-fall or a trip-and-fall injury, that owner or occupier of the property can be liable for the victim's injuries and damages under the law of premises liability.
Important Slip-and-Fall Accident and Trip-and-Fall Facts
The U.S. Centers for Disease Control and Prevention (CDC) reports that 20% of all fractures or head injuries are caused by falls. More than 800,000 people every year go to the hospital for injuries from falls, most often for head or hip injuries. The most common cause of traumatic brain injuries is falls.
Common Locations for Slip-and-Fall or Trip-and-Fall Accidents
A dangerously defective condition can cause a person to slip-and-fall or trip-and-fall. People can suffer serious injuries just about anywhere, both indoors or outside. Therefore, below are a few common locations of where such falls might occur:
Malls, stores and shopping centers.
Government buildings.
Fine dining or fast-food restaurants.
Homes, condos or apartments.
Hotels, motels and swimming pools.
Stadiums, theaters and other venues.
Airports and other transportation centers.
At any workplace.
Distinguishing Between Slip-and-Falls and Trip-and-Falls
In a slip-and-fall accident, the victim ordinarily falls backward. His or her leading foot will typically slide forward. Meanwhile, their center of gravity slides behind them and causes a backward fall. Whereas, in a trip-and-fall, an object on the walking surface interferes with a foot.  So the victim is unable to move their other foot forward quick enough to stop a forward fall.
Common Slip-and-Fall Accident and Trip-and-Fall Injuries
As most slip-and-fall accident victims fall backwards, their injury patterns have certain common characteristics. But aside from sprained ankles, wrists and serious shoulder injuries, potentially debilitating or even fatal injuries can result from skull fractures, traumatic brain injuries and spinal cord damage. In addition, trip-and-falls often have their own common injury patterns too. Those might consist of hand, wrist and arm fractures, shoulder dislocations, neck injuries, and head, facial and dental trauma.
Proving a Slip-and-Fall or Trip-and-Fall Case in Kentucky
The victim of a fall down accident in Kentucky must prove their case by a preponderance of the evidence. What that means is that his or her version of events is more likely true than not true. Here's what a lawyer needs to prove:
The owner or occupier of the property knew or should have known of a dangerous condition on their property.
The victim of the slip-and-fall or trip-and-fall was lawfully on the property as a guest or a business invitee.
The owner or occupier of the property was careless and negligent in maintaining the property. He or she failed to repair the dangerous condition or sufficiently warn of it.
The guest or invitee suffered injuries as a result of the dangerous condition.
What to Do After Sustaining an Injury in a Slip-and-Fall or Trip-and-Fall
Aside from obtaining immediate medical care and treatment, gathering and securing evidence that supports your version of events is the most important thing that you can do after a slip-and-fall or trip-and-fall. Victims or somebody acting upon their request must act quickly. Mostly because evidence is often cleaned up or disposed of soon after an accident. That can include security camera footage too. So take your own pictures or movies of the scene. But if you are in too much pain, a friend or occurrence witness might help. Then, ask the store manager or person in charge to complete an accident report containing all pertinent facts. Unless your injuries are minor, you'll want paramedics to transport you to an emergency room. They'll also complete a report documenting your injuries.
Defenses to Kentucky Slip-and-Fall and Trip-and-Fall Cases
Numerous defenses to slip-and-fall and trip-and-fall claims exist. Aside from being a trespasser, some argue that the condition for the claimant's injuries and damages was open and obvious. Other defenses might include allegations that the defendant didn't know of the allegedly dangerous condition or didn't have enough time to sufficiently remedy or warn of it.
Comparative Negligence in Kentucky
In short, comparative negligence apportions fault to two or more parties to an accident when they shared in negligence for the accident. For example, if a jury decides that a claimant was 30% at fault for an accident, a $100,000 verdict would reduce to $70,000. Kentucky is a pure comparative negligence state. In many states known as modified comparative negligence states, if a claimant is 50 or 51% at fault for an accident, he or she does not get an award. In a pure comparative negligence state like Kentucky, a person might be 99% at fault for the accident, but still be able to take 1% of the damages.
What if an Insurance Adjuster Contacts Me?
The accident report that was generated by your fall will likely be referred over to an insurance adjuster for the insurer of the premises that you fell at. Take notice that this individual might sound friendly and concerned about your accident and injuries, but that adjuster's job is to save the insurer as much money as possible on your claim. He or she is likely to want a recorded statement from you about your fall and injuries. Politely refuse to give any sort of a statement. Kentucky law doesn't require you to give one, and it's highly likely they'll use your own against you to attack your credibility anyway. If the adjuster threatens to close your claim without a statement, it's an empty threat with no legal effect on a forthcoming personal injury lawsuit.
The Statute of Limitations
Every state has its own time limit for when a person can file a personal injury case. That deadline is known as the statute of limitations. In Kentucky, the statute of limitations in a personal injury case is one year from the date of the accident. There are very few exceptions to this rule. So don't sit on your rights after being injured in a slip-and-fall or trip-and-fall. Preserve and protect your right to pursue compensation for your injuries and damages by contacting Kaufman & Stigger, PLLC right away after being injured in any Kentucky slip-and-fall or trip-and-fall.
The Kentucky slip-and-fall accident lawyers at Kaufman & Stigger, PLLC have decades of experience and a highly successful track record in handling these types of cases. If you or a family member were injured in such an accident on property that was owned or occupied by somebody else anywhere in Kentucky, contact us for a free consultation and case review to find out how we may be able to help you. As we take these types of cases on a contingency fee basis, we don't seek up-front legal fees. In fact, we don't receive any legal fees at all from you unless we obtain a settlement or award for you. It's our goal to obtain the highest settlement or award for you that you deserve.
Additional Resources: