Walking is becoming an increasingly popular way to get around, according to the Governors Highway Safety Association (GHSA). Not only is it an excellent way to get the exercise we all need, walking is also free, convenient for short-distance trips, environmentally friendly, and when linked with public transit, a viable alternative to traveling in privately owned automobiles.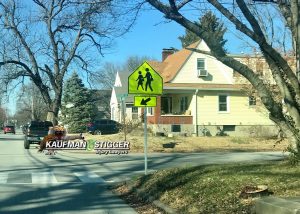 As the popularity of walking increases, however, pedestrian accidents are tragically on the rise. According to GHSA, pedestrian traffic fatalities increased by 35% from 2008 to 2017. GHSA estimates the nationwide number of pedestrians killed in motor vehicle crashes in 2018 was 6,227, an increase of four percent from 2017. The National Highway Traffic Safety Administration (NHTSA) reports that 5,376 pedestrians were killed and 70,000 were injured in traffic crashes in the United States in 2015.
Pedestrians are completely unprotected and vulnerable to serious injuries when struck by a vehicle. If you or your loved one has been hurt in a Louisville car accident, Kaufman & Stigger, PLLC can help you pursue the compensation you deserve.
Our Louisville personal injury attorneys have a history of success winning settlements and verdicts for our clients. We have been named among Super Lawyers®, granted membership in the elite Million Dollar Advocates Forum and the Multi-Million Dollar Advocates Forum, and awarded Martindale-Hubbell® AV Preeminent Rating, and have a 10.0 Superb Rating on Avvo. You can have confidence that we will give our best in protecting your rights and interests in a pedestrian accident injury claim.
Causes of Pedestrian Accidents
Driver distraction is a common factor in the increasing numbers of pedestrian accidents. According to GHSA, the growing use of cell phones may be a distraction for both drivers and pedestrians. Sadly, many pedestrian accidents are the result of various types of driver negligence. Driver contributing factors include:
Speeding
Distracted driving
Failure to yield the right-of-way to pedestrians in crosswalks
Failure to signal turns
Disregarding traffic or weather conditions
Failure to obey traffic signals and signs
Pedestrian Accident Claims
A pedestrian who is struck and injured by a motor vehicle can file a bodily injury claim with the driver's insurance company. If the driver does not carry enough insurance to cover the full extent of the losses, or carries no insurance at all, injured pedestrians may be protected under the uninsured or underinsured motorist coverage in their own policies.
In a comparative negligence state such as Kentucky, apportionment of fault can be an issue in pedestrian accident claims. If the driver of the vehicle claims that the pedestrian is partially responsible for the accident (for jaywalking, for example), a portion of the fault may be assigned to the injured pedestrian, and compensation for damages may be reduced accordingly.
In a pedestrian accident claim, punitive damages may come into play in cases of egregious, intentional, or particularly harmful conduct, such as a drunk driver who hits a pedestrian, causing serious injuries or death. Punitive damages go above and beyond compensating the injured party to punish the defendant and deter similar conduct in the future.
At Kaufman & Stigger, PLLC, we have a successful track record recovering substantial settlements and verdicts for our clients, including a recent $1,300,000 settlement for a 17-year-old injured pedestrian. You pay us no fees unless we win or settle your case for you. If you or your loved one has been injured in a pedestrian accident, contact us at (800) 937-8443 to find out how we can help you.
Frequently Asked Questions
If I get hit while crossing the street outside a crosswalk, is it my fault?
The truth is, even though you might be breaking the law by crossing outside a crosswalk if you get hit by a car, it doesn't automatically mean that you can't get compensation. The law looks at whether the driver was negligent by driving too fast, being distracted or not considering the presence of pedestrians.
What damages can I get if I'm hit by a car?
Kentucky law allows for a victim of an auto accident to be compensated for all injuries and financial losses. These can be categorized into economic and non-economic damages. Economic damages are those that are easily computed like medical bills and lost time from work. Non-economic damages are those where the computation isn't so set and encompasses things like pain and suffering and mental anguish.
How long do I have to file a pedestrian accident injury in Kentucky?
Kentucky has a one-year statute of limitations for personal injury claims. This means you have one year to settle your motorcycle claim before you have to file a lawsuit with the court. If you don't file within the year, you risk losing your right to compensation.
Additional Information