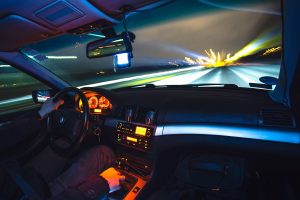 Drivers around Lexington can be careless and miss seeing other vehicles, even in broad daylight. Those mistakes are only magnified at night when motorists seem to show even less attention to the roads and cause unavoidable collisions.
Perhaps it's a reliance on the headlights that should actually make missing spotting another vehicle almost impossible. Yet, experts say that drivers can sometimes misjudge the distance of another vehicle when looking into headlights. Careless drivers can also be proceeding in a reckless manner that gives them little time to correct a mistake.
If every extra look in all directions and every opportunity to slow down is taken, it's a small price to pay if accidents are prevented and injuries are avoided completely.
Terrible Weekend Accident in Lexington Sends Three to the Hospital
A multi-vehicle collision injured three people on Saturday night in Lexington. WKYT-TV reports the accident took place near the intersection of Russell Cave Road and Dreamland Drive sometime before 9:45 p.m. on July 17, 2021.
Lexington police confirm that two vehicles were involved in the crash. Three people were rushed to the hospital from the scene. Officials said that one victim's injuries were potentially life-threatening.
The conditions of the victims have not been released. Lexington police officers continue to investigate what led to the crash.
Assistance for Injured Victims in Lexington Collisions
Victims can endure serious injuries in collisions and it should be the insurance companies for at-fault drivers that step up to provide help at such a difficult time. Victims and their families will face the costs of emergency response, hospital bills, and even have to make up for the loss of income suffered while the victim is out of work.
These hardships and others can be listed in a claim for damages against an insurance provider. This civil claim demands help for all medical expenses suffered now and any expected in the future. This would cover the need for surgeries in the months and years to come.
It would also help with the costs of a physical disability. Such a serious injury can greatly change a victim's home life and even leave him or her without the ability to perform his or her prior job. Any settlement claim from an insurance company would have to address these potential costs that can extend over a lifetime.
Contact a Lexington Car Accident Lawyer
Victims and their families can wonder what sort of support is available to them as they recover from the consequences of a scary accident. They should never be left to wonder when Kaufman & Stigger, PLLC, offers a free case evaluation session to all victims. This evaluation comes with no obligation to you and allows you to examine all of the options before you.
Allow a Lexington Car Accident Lawyer to inform you about the benefits an insurance company won't be telling you about. To discuss your case, contact Kaufman & Stigger, PLLC, today, by clicking here.