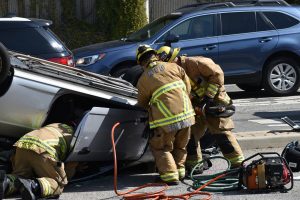 Accidents in congested parts of Lexington at busy times of day can result in serious consequences, especially when one mistake can affect so many other vehicles nearby.
Drivers can take their eyes from the road or make a reckless move and put cars in the lanes beside them and oncoming traffic at risk. A crash can also send a vehicle rolling over and result in more severe injuries than in other types of accidents.
The National Highway Transportation Safety Administration (NHTSA) studied traffic data over a decade and discovered that accidents involving rollovers are more likely to result in a fatality than any other type of crash.  In fact, the numbers show that, tragically, rollover accidents account for one-fifth of all fatal crashes each year.
Four Vehicle Crash in Lexington
A collision involving multiple vehicles in Lexington sent several people to the hospital Thursday evening. WTVQ-TV reports the accident happened around 6:45 p.m. along the 1800 block of Versailles Road on March 25, 2021.
Lexington Police and Fire Crews responded to the scene. Officers say a pickup went out of control, traveled into another lane, and flipped to land on its top. The resulting collisions involved four vehicles. A man driving the pickup was injured and taken to the hospital. Two girls in another vehicle were also treated at the hospital. The injuries were not thought to be life-threatening.
Clean-up crews were called in to deal with a fuel spill at the scene. The cause of the accident is under investigation.
Help for Accident Victims in Lexington
Vehicle accidents can have serious consequences for the occupants involved, especially for victims in the back seats of cars. Passengers don't usually have the protection of airbags and the most advanced seatbelts in the backseat and can suffer harder impacts with the seat in front of them and the doors.
Injured victims or their loved ones can file a claim for damages against the drivers to blame and their car insurance coverage. This claim would demand support for things like hospital bills, ambulance fees, and other hardships experienced by victims and their families. This civil lawsuit is used to make sure victims are protected from the costs of someone else's mistake now and in the future if more medical care is needed months down the road.
Contact a Lexington Car Accident Lawyer
Lawyers with Kaufman & Stigger, PLLC, of Lexington work with accident victims and their families to make sure they know their rights. Insurance companies aren't required to alert victims to all of the support that's available to them. A local attorney working on a victim's behalf can help families earn compensation for every hardship endured after a serious accident.
For a free and confidential evaluation of your injury case, contact Kaufman & Stigger, PLLC today, by clicking here to contact them online.