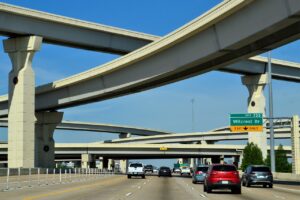 Travel on any interstate around Louisville can be hazardous when drivers start paying attention to other things than the road. That carelessness can leave a car between two lanes and in the path of other fast-moving vehicles.
The collisions occurring at interstate speeds can be devastating and lead to major injuries for the drivers and passengers involved. In the worst of such cases, victims can be left clinging to life.
Weekend Crash in Jefferson County Tragically Kills Two
Two people lost their lives in a multi-vehicle interstate accident in western Louisville on Saturday evening. WAVE-TV reports the accident happened along I-264 near the Dixie Highway interchange on January 22, 2022.
Shively Police responded to the scene in the eastbound lanes around 6:55 p.m. They found an accident involving three vehicles.
Two people riding in the same vehicle were pronounced dead at the scene. The Jefferson County Coroner's Office identified the victims as a 64-year-old woman and a 44-year-old man.
The Louisville Metro Police Department is now working to determine the circumstances surrounding the crash.
Seeking Assistance for Families After a Louisville Accident
The tragedy of car accidents doesn't end at the crash scene. For the families left behind the feeling of loss will never go away.
After the loss of a loved one, an at-fault driver's insurance company can be called upon to provide financial assistance. Through a wrongful death claim, a family should expect help with the costs of burial and a memorial service. The expense of emergency response and ambulance fees should also earn reimbursement.
It's also critical that families receive support to sustain themselves in the future. They'll be without the guidance and financial support a victim would have provided close relatives in the years to come.
Contact a Louisville Car Accident Lawyer
Families may wonder if they need an attorney, and the answer is almost always yes. Insurance company adjusters have years of experience and are good at their jobs which is to pay families as little as possible or nothing at all. You need someone just as experienced to help you level the field. Talk to someone you can trust to be on your family's side and fight for your fair compensation
The attorneys at Kaufman &  Stigger, PLLC, have that knowledge and a combined 100 years of experience in helping families get the compensation they'll need to rebuild their lives. To discuss your case free of charge contact Kaufman & Stigger, PLLC today.