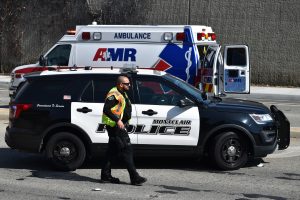 Busy routes around Louisville can be labeled "roads", but with three lanes or more and the amount of traffic they carry, they are more like highways. Traffic moves quickly and drivers can become careless or reckless and place themselves in the path of other vehicles.
The rush of cars can make a turn across oncoming traffic an especially hazardous maneuver. A slight misjudgment by a turning driver or a speeding driver coming in the opposite direction can lead to a devastating collision.
Left-Turn Accident in Louisville Injures Two People
A frightening accident in southern Louisville left two people hospitalized Monday afternoon. WAVE3-TV reports the collision happened on the 3600 block of Fern Valley Road just east of Preston Highway on February 14, 2022.
The Louisville Metro Police Department says a woman was driving west on Fern Valley in the Newburg area when she attempted to make a left turn. During the turn, she was hit by an oncoming vehicle.
The woman was rushed to the hospital in critical condition. The other driver involved was also taken to the hospital. His injuries aren't considered life-threatening.
LMPD investigators are still determining what exactly led to the crash.
Seeking Help for Victims in a Louisville Accident
Victims hurt in a car accident are often asked to focus on recovery while also worrying over the cost of medical care and their lost time at work.
Innocent victims in accidents shouldn't have to pay for their own recovery. It's only fair that at-fault drivers and their insurance companies do the worrying over doctor bills and other expenses.
Sadly, an insurance adjuster's first instinct is to fight as hard as possible to avoid taking the blame for their policyholder's mistake.
It's important to have a legal expert on your side to monitor all communication with an insurance firm. Insurance agents may stall on responding to your claim while more and more bills come due. They might know that you're out of work with your injury and will soon be desperate enough to accept any offer they make. Allow a local Louisville car accident attorney to hold them accountable and bypass all of these tactics.
Contact a Car Accident Lawyer in Louisville
A scary car collision will leave you feeling vulnerable, but you don't have to leave your recovery up to the whims of an insurance agent. Make sure you have everything you'll need to heal physically and financially by talking to a Louisville Car Accident Lawyer.
The attorneys at Kaufman &  Stigger, PLLC, are on your side and will fight for the compensation you'll need to recover and get your life back on track. To discuss your case and your options free of charge, reach out to Kaufman & Stigger, PLLC today, by clicking here.