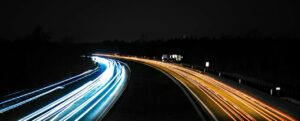 Travel on the interstates that circle Louisville can be dangerous even when traffic isn't heavy. It's still up to drivers to maintain control of their vehicles and to maintain safe speeds that allow them to adjust to any obstacles or slower moving vehicles they encounter.
Going speeds that are safe for conditions is key on interstates when the flow of traffic can change so abruptly around each bend in the road. Motorists can easily strike other vehicles and send drivers out of control and off the road to put their lives in extreme danger.
Woman Killed After Vehicle Rolls Down Embankment in Louisville
A woman was tragically killed after her vehicle was struck and sent down an embankment over the weekend in central Louisville. WAVE-TV reported the accident happened Saturday night along Interstate 264 near the Taylor Boulevard exit on March 5, 2022.
LMPD's Traffic Unit responded to the crash around 9:30 p.m. They say the victim's Chevy Cruze car was struck from behind by a passenger car believed to have been traveling at a high rate of speed. The Chevy went out of control, skidded off the road, and flipped down an embankment. The woman inside the Chevy was taken to the hospital in critical condition where she later died.
The vehicle that rear-ended the Chevy was later found crashed into a concrete barrier further down the interstate. The LMPD continues to investigate the circumstances surrounding the accident.
Support for Families After a Louisville Interstate Accident
As families struggle with the loss of a loved one, they may also be facing a financial crisis over the expenses that arise after a tragic accident.
A wrongful death lawsuit can be filed against the driver to blame and the auto insurance company backing the driver. The claim would seek to protect the family from economic hardships.
The lawsuit would seek money to help pay emergency response fees and burial costs. This claim can also consider the immense loss experienced in the future as loved ones must continue their lives without the guidance and financial support the deceased would have gone on providing.
Contact a Louisville Car Accident Lawyer
If you or a loved one has been the victim of a mistake by another driver talk to a Louisville Car Accident Lawyer. You'll need a skilled representative that will fight to earn your family support for what they've been through.
The attorneys at Kaufman &  Stigger, PLLC, have a combined 100 years of experience in helping clients and their families get the help they need.
To discuss your case, reach out to Kaufman & Stigger, PLLC, today for a free consultation. This consultation is open to all family members. You can click here to schedule an appointment.