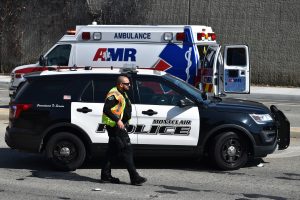 Interstate travel can be extremely dangerous when high-speed limits and the increased lanes for passing encourage motorists to drive recklessly. With the speeds involved, if any motorists are forced to brake because of an obstacle or another vehicle moving slowly, the concern is always the driver's coming up from behind who may be distracted and may not catch the events happening in front of them.
The Kentucky State Police warn of the dangers of interstate travel around Louisville each year, in particular the hazards on Interstate 71. In 2018 they were called to 1,119 collisions on the interstate. Those accidents were responsible for three tragic deaths and 220 injuries for the year.
An inattentive driver can be going 70mph or more when traffic suddenly bottlenecks in front of them. The lapse in reaction time can leave too little room to brake and avoid a devastating accident.
Deadly Collision on the I-71 In Louisville
A two-vehicle crash in northeast Louisville tragically claimed a life on Monday afternoon. WLKY-TV reports the accident happened around 1:30 p.m. on Interstate 71 at the intersection of the Gene Snyder Freeway/I-265 on January 11, 2020.
Louisville Metro Police say a car was going south on I-71 when it slowed or stopped and was struck from behind by a pickup truck. The driver of the car died at the scene. The driver and the passenger in the truck were not hurt.
The LMPD's traffic unit continued to investigate the crash scene while the interstate lanes remained closed.
Support for Families After Louisville Accidents
Fast-moving interstate traffic can lead to dangerous impacts and leave victims with little chance to escape the severe consequences of another driver's error. The families left behind should always be the first consideration after a tragedy. They should be allowed to grieve and cope with their loss, but sometimes bills and other expenses come due no matter how much close relatives have been put through.
The family should not be forced into bankruptcy over expenses caused by a negligent driver. If this is the case, a wrongful death claim filed on the behalf of the family may be necessary to ensure medical bills, funeral costs, and lost wages at work are all paid and covered for the family by the at-fault driver's insurance company.
This civil lawsuit can also award money to the family for the future when a spouse or children or parents will be without the emotional and monetary support the victim always provided through their employment. Family members should not end up in financial trouble years down the road when they no longer have the guidance of a lost loved one.
Contact a Lousiville Wrongful Death Lawyer
If you've lost someone in a tragic accident you may wonder if your family needs an attorney to represent them. The answer is almost always yes in wrongful death cases. The insurance company agents have years of experience and are good at their job which is to pay you and your family as little as possible or nothing at all. You need someone just as experienced to protect your loved ones and level the field.
Talk to a Louisville Wrongful Death Attorney you can trust to be on your side and fight to get your family fair compensation. The attorneys at Kaufman &  Stigger, PLLC, have that knowledge and a combined 100 years' experience in helping clients get the compensation needed to protect a family's future. To discuss your case contact Kaufman & Stigger, PLLC today.