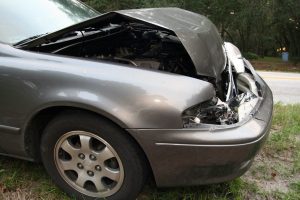 Narrow two-lane roads spanning rural Kentucky can leave little room for drivers to correct for mistakes and avoid collisions. Motorists can travel for hours without incident and suddenly find another vehicle in their path and be left no time to react.
The tragic accidents that result from these incidents are tracked by the Kentucky State Police each year. Trimble County saw 149 traffic accidents across 2019. Those collisions left 37 people to recover from injuries and were responsible for a heartbreaking two deaths for the year.
Three-Vehicle Accident Claims Life in Trimble County
A man lost his life in a crash outside of Bedford in Trimble County Thursday morning. WTVQ-TV reports the frightening accident unfolded on US 421 on May 27, 2021.
The Kentucky State Police say the driver of a Chevrolet Cavalier was traveling southbound when for an unknown reason the car crossed into the opposing lane. The car collided with an oncoming Ford Escape and a Toyota RAV 4.
The driver of the Chevrolet, a 64-year-old man from Madison, Indiana, passed away on the scene. The driver of the Ford Escape was rushed to an area medical facility for the treatment of injuries.
The investigation into the cause of the accident is being handled by officers working out of Kentucky State Police Post 5.
Finding Support for Victims and Families After Trimble County Accidents
Devastating crashes on Kentucky roads leave victims, families, and communities to deal with the tragic consequences. Surviving victims might require an expensive ambulance ride and a long stay in a hospital as they recover. Once they return home they could find a stack of medical bills and other monthly expenses in the mailbox. Victims may have little chance to pay these bills if they've lost wages while missing weeks of work.
In such a troubling situation, victims or their families are allowed to file a claim for damages that would ask the at-fault driver's car insurance provider for help with the costs of medical treatment now and any that may be necessary in the future. This civil claim could also secure money to help avoid foreclosure on a car or a home while payments have been missed during recovery.
The at-fault driver may have been a victim of the accident as well and those injured may have reservations about filing against another victim. It's important to remember that the claim for damages is filed against the insurance company involved and in general, doesn't target the driver or his or her family.
Families who have lost a loved one in a crash can also seek assistance from an at-fault driver's insurance coverage through a wrongful death claim. This claim could earn help with the costs of a funeral and burial and emergency services fees. The claim would also seek to replace the financial support the victim can no longer provide the family through his or her job or business.
Contact a Car Accident Lawyer Serving Trimble County
Talk to a Trimble County Car Accident Lawyer you can trust to be on your side and protect your family's rights after a terrible accident. Insurance companies are happy to leave victims and their families to absorb the extreme costs that arise after a collision themselves. This should never be the case.
The attorneys at Kaufman &  Stigger, PLLC, have a long history of representing car accident victims in Indiana and Kentucky and making sure victims and their families receive the support they need to rebuild their lives. To discuss your case, contact Kaufman & Stigger, PLLC today, by clicking here.