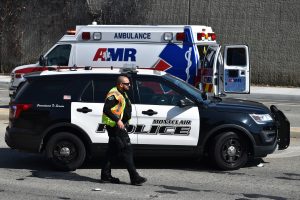 Interstates surrounding Louisville and those running into Indiana can carry heavy traffic morning, noon, and night. They see a constant flow of fast-moving packs of cars. Commuters and travelers can usually navigate local highways and get to their destinations safely, but careless and reckless drivers can put even cautious drivers at extreme risk of a collision.
A glance at an email on a cellphone can take a distracted driver's eyes from the lanes ahead and create a dangerous situation for everyone nearby.
Driver's can also make a reckless move by changing lanes without properly checking mirrors and blind spots. They can suddenly make contact with other vehicles and drivers out of control. These mistakes happen every day on Indiana roads and have the potential of causing devastating accidents.
Vehicle Fire Claims Accident Victim's Life in Floyd County
A collision between a car and an SUV tragically claimed one life and sent another victim to the hospital in Floyd County, Indiana on Wednesday morning. The News And Tribune reported the accident occurred on Interstate 265 near the Charlestown Road interchange northwest of Louisville on August 6, 2021.
The Floyd Sheriff's Department says they arrived on the scene just after 6 a.m. They say a woman from North Branford driving a passenger car westbound struck an SUV also traveling westbound. The impact sent both vehicles off the road to come to a stop approximately 50 ft away from the interstate. The SUV caught fire with a man trapped inside.
Investigators say a man inside the SUV died on the scene. A woman inside the SUV was transported to University of Louisville Health. Her condition has not been released. Crash scene investigators continue to work to determine what led to the accident.
Securing Assistance for Indiana Accident Victims and Their Families
An interstate accident can easily rob a family of a loved one and leave close relatives to wonder how such a careless accident could have happened. Under such difficult circumstances, family members are allowed to file a wrongful death claim against an at-fault driver's car insurance provider to try to earn the support they'll need to recover financially.
A spouse, children, parents, and siblings of the victim can quickly face the expenses of a proper memorial service and burial. They will also receive invoices for emergency response including ambulance and rescue crew fees. These costs can arrive just as the family begins to do without the financial support the deceased has always provided through his or her employment.
Nothing can replace the loss of a beloved family member, but a wrongful death lawsuit seeks support for the emotional pain that close relatives have been put through. A claim could also consider the loss of guidance and love that would have been provided by the victim in the years to come.
Contact a Car Accident Lawyer Serving Kentucky and Southern Indiana
If you or a loved one has been the victim of a mistake by another driver, please reach out to a Clarksville and Louisville Car Accident Lawyer. Insurance companies don't always treat injured victims and grieving families with the respect they deserve. Find out about the rights you and your family have and don't fall for the tactics insurance adjusters use to rob families of support.
The attorneys at Kaufman &  Stigger, PLLC, have a long, extensive background in assisting victims and families in rebuilding their lives after a terrible accident. Contact Kaufman & Stigger, PLLC, today for a free and confidential consultation. Find out how best to fight back when insurance companies start to treat you and your family unfairly.