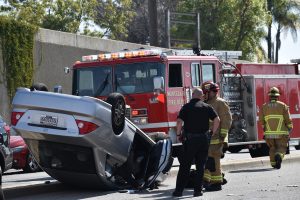 Lexington's major arteries carry heavy traffic throughout the week, especially during rush hour. Frightening collisions are becoming a daily hazard as drivers become more reliant on their phones and less focused on the road ahead. A careless driver can be reading a text or be traveling too fast and put other drivers and passengers at extreme risk of injury.
Impacts can cause severe injuries, especially in accidents involving a rollover. Victims are subjected to powerful blunt force trauma and can absorb impacts from all sides of a vehicle. Seatbelts and airbags also become less effective at preventing injury when a vehicle is no longer upright. Those hurt can face a long, expensive recovery in order to return to their normal lives.
Two People Hurt in Rollover Accident in Lexington
Two people were rushed to the hospital after a two-vehicle collision in western Lexington on Wednesday afternoon. WTVQ-TV reports the accident happened around 5:30 p.m. on Versailles Road at the intersection of Van Meter Road on July 14, 2021.
Lexington Police said two vehicles crashed into each other and the impact turned one of the vehicles over. Two victims had to be transported to the hospital. The conditions of the victims have not been updated, but their injuries were thankfully not considered life-threatening.
Lexington Police Officers continue their investigation into the accident and have not said what lead to the crash.
Securing Help for Victims in Lexington Car Accidents
Victims in car accidents can face the pain and frustration of a lengthy injury recovery. They may also be worried about the medical expenses and physical therapy costs associated with their care. This is on top of the damage already done to their finances while they miss work and get behind on monthly bills.
Kentucky allows victims up to one year from the date of an accident to file a personal injury claim against an at-fault driver's insurance company. This civil claim lists off every financial, physical, and emotional hardship the victim has endured and asks for fair support.
Victims should never have to risk financial ruin over the bills from an accident that wasn't their fault. Insurance companies should be on the hook for each and every difficulty an injury victim experiences in recovery. However, insurance adjusters won't make it easy for victims to earn what's only fair.
Contact a Car Accident Lawyer Serving Lexington Victims
Insurance companies like to contest every claim that hits their desks, even when the evidence is clear. Your case can be picked apart and your character can be questioned by an insurance adjuster. This is just standard procedure for insurance providers looking to pay victims as little as possible.
Allow a Lexington Car Accident Attorney to secure evidence and testimony to build a strong case that an insurance company will have a difficult time challenging. The attorneys at Kaufman &  Stigger, PLLC, have an extensive background in protecting the rights of accident victims in Kentucky and earning them the compensation they need in recovery. To discuss your case in a free case evaluation session contact Kaufman & Stigger, PLLC today.