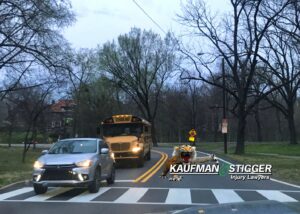 School buses are large, bright yellow, and slow-moving for a reason. They are meant to keep the precious lives onboard as safe as possible.
Even with safety precautions and careful driving, bus accidents still occur in Kentucky each year. Children and teens can suffer serious injuries and even have their young lives threatened in a traffic collision.
It's critical that injured victims get the support they need to make a full recovery. It's also vital that parents know where to turn when they feel like their child's injuries aren't being taken seriously after an accident.
School Bus Overturns in Louisville Sending Several Students to Hospital
A Jefferson County Public Schools bus crash sent many high school and middle school students to the hospital Tuesday morning in eastern Louisville. WLKY-TV reports the bus overturned along I-64 near the Cannons Lane Interchange on April 3, 2022.
Reports indicate that Bus #2015 hydroplaned on water before it ran off the interstate and overturned into some trees. It happened around 7:30 a.m.
The bus was carrying 21 students at the time of the crash. They were headed for Manual High School and Noe Middle School. At least 17 students were transported to local hospitals. The bus driver was not hurt. The children's injuries were not considered life-threatening.
Eight students were taken to Norton Children's Hospital. Seven students were rushed to Norton Woman's and Children's Hospital. Two students were taken to Norton Children's Medical Center.
Around 12:15 p.m., Norton Hospital officials confirmed that all students had been discharged or were in process of being discharged. No children were expected to be admitted.
Finding Support for Victims After a Louisville School Bus Accident
Parents must be careful to pay attention to young victims after a school bus accident. A child's injury may appear to only be a few bumps and bruises, but the shock of being in a major crash can sometimes mask a more serious injury.
It's important to get children examined by a family doctor the day after an accident or as soon as possible. Children can wake up the day after such a traumatic event and find they are experiencing pain from an injury they didn't know they had.
After a diagnosis of a more severe injury, families can be burdened with enormous medical bills while also working to help an injured child heal. Parents may seek support from those at-fault in accidents to make sure children have the medical care they require. The physical pain and emotional trauma that may take a while to recover from might also factor into the financial support a child receives.
Contact a School Bus Accident Lawyer Serving Louisville Families
Driving a bus with children aboard is a difficult job.  Sometimes road conditions and careless interstate drivers create hazardous situations and bus accidents occur.
If your child or loved one was injured while riding on a school bus, speak directly to a Louisville School Bus Accident Lawyer who knows the laws that protect injured people in Kentucky.  Get the conversation started now by calling 502-458-5555.  Our personal injury lawyers can help you take care of the legal aspects of your case while you focus on helping your child heal from their injuries.  This injury consultation is always free.