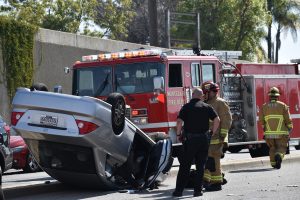 Lexington drivers face their share of dangers at any hour of the day. The hazards are even more numerous during the morning and evening rush-hours when more distracted and careless drivers are out and putting safe drivers in scary situations on busy roads.
The Lexington Police Department illuminates the most dangerous sections of the city for drivers each year. In 2019, their data showed that a stretch of Man O War Boulevard was the scene for 42 collisions, the most anywhere in Lexington. The Police accident numbers also show that the intersection of Nicholasville Road and Reynolds Road was the most dangerous crossroads accounting for 33 collisions for the year.
Early Morning Crashes in Lexington Injure at Least One Person
Multiple accidents in Lexington endangered several motorists Tuesday morning. WKYT-TV reported on at least four accidents in the early morning commute occurring around 7 a.m. and earlier on March 2, 2021.
The Kentucky Transportation Cabinet warned travelers of two separate crashes on Georgetown Road between Iron Works Pike and Hurricane Hall Road. One of the accidents left an electric pole down in the road. Information on any injuries involved was not released.
A third crash happened on Nicholasville Road and Penmoken Pike. The cause of that crash wasn't known, but fortunately, there were no injuries involved.
Another accident at the intersection of Man O War Boulevard and Todds Road just after 7 a.m. The collision left at least one person injured.
Support for Lexington Car Accident Victims
Accident victims can find themselves in shock after a collision. The reality of such a frightening event and the possibility of serious injuries can leave them unable to consider what has happened for quite a while.
Once the shock does wear off, victims may start to wonder how to get help for the situation they're in. At-fault drivers may have left victims no room to avoid an accident and now may be unwilling to help with the consequences of their error. In these difficult circumstances, victims may find themselves facing thousands of dollars in bills for medical care with a long expensive recovery ahead. They may also be missing time at work with their injury and losing valuable paychecks used to pay monthly expenses.
In these cases, an injured victim can file a claim for damages against the at-fault driver's insurance provider. All of the costs stemming from a crash can earn compensation. The emotional and physical pain experienced by the victim and his or her family can also figure into the amount of the award that's possible. A lawyer working on a victim's behalf can line up evidence, documents, and witnesses to make sure insurance agents can't trick their way into escaping blame for a crash.
Contact a Lexington Car Accident Lawyer
Talk to a Lexington Car Accident Attorney you can trust to be on your side and fight for your fair compensation. The attorneys at Kaufman & Stigger, PLLC, have that knowledge and a combined 100 years' experience in helping clients get the compensation they'll need to make a full recovery. To discuss your case, contact Kaufman & Stigger, PLLC today, by clicking here to contact them online.