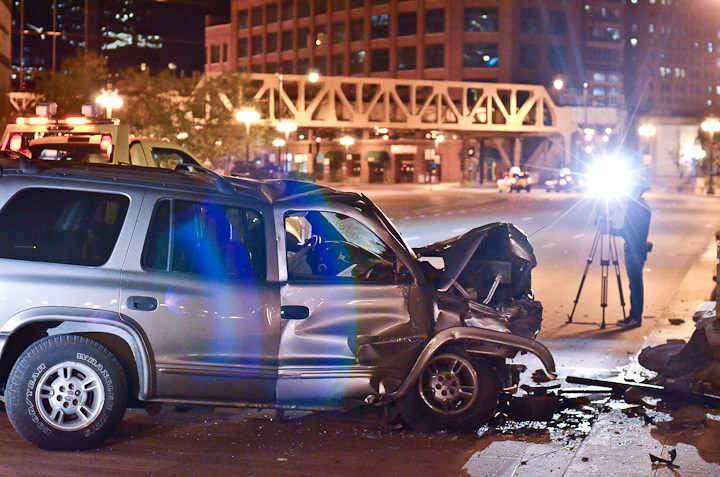 Driving under the influence is one of the most dangerous, and unfortunately, deadly actions a person can take when they are behind the wheel of a car. Often, these accidents leave victims and their families searching for answers, even after the driver that's under the influence is caught and punished.
Despite extensive research and policing of the issue, driving under the influence remains a common problem throughout Kentucky, often leaving devastation in its wake.
Louisville Teenager Killed, Three Others Injured After Weekend Four Car Accident Caused by DUI
A 17-year-old was killed and three others were injured on Saturday, April 22, 2023, when a man crashed his Mazda into a car stopped at the intersection of Shepherdsville Road and Newburg Road in Louisville, causing a chain reaction that involved two other vehicles that were also stopped. According to a report from the Louisville Courier-Journal, Ernest Ocampo was driving his Mazda at over four times the legal limit of blood alcohol content when he rammed into the rear of the car that the 17-year-old was a passenger in. The 17-year-old was taken to the University of Lousiville Medical Center, where he later died of blunt-force injuries. Three passengers in the three other cars were also taken to U of L Medical Center to be treated for injuries.
Authorities said Ocampo did not have a driver's license and was emitting a strong odor of alcohol at the crash scene. Toxicology reports showed Ocampo's BAC at .338, more than four times the legal limit of 0.08. He was later charged with murder, driving under the influence, and five counts of wanton endangerment.
Consequences of DUI Accidents in Kentucky
Not surprisingly, DUI accidents are a huge concern throughout Kentucky. Accidents like the one above demonstrate the devastating consequences of driving under the influence, despite a huge effort by authorities to police and ultimately punish offenders that drive while intoxicated or under the influence of drugs.
DUI accidents are doubly frustrating, not only because of the issue is well-known, but also by the fact that these accidents are totally preventable. Still, there are thousands of DUI accidents throughout Kentucky every year, each of which carry a number of consequences, such as:
Increased risk of car accidents – DUI increases the risk of car accidents, which can result in injuries or fatalities to the driver, passengers, and other road users.
Legal consequences – DUI in Kentucky can result in severe legal consequences, such as fines, license suspension or revocation, and even imprisonment if it results in the death of another person.
Financial consequences – A DUI conviction can also lead to financial consequences, including increased insurance rates, legal fees, and the cost of alcohol treatment programs.
Medical consequences – DUI accidents can result in severe injuries, such as brain damage, spinal cord injuries, and permanent disability.
Fatalities – DUI accidents can also result in fatalities, leaving families and communities devastated by the loss of a loved one.
Dedicated Kentucky DUI Accident Lawyers
If you or a loved one has been involved in a car accident in Kentucky that was the result of driving under the influence, it is important to seek guidance from our team of dedicated and experienced Kentucky car accident lawyers. We can help you understand your legal rights, pursue compensation for your injuries and losses, and hold the responsible parties accountable for their actions.
At Kaufman & Stigger, PLLC, we understand the devastating impact that DUI accidents can have on victims and their families. That's why we are committed to providing compassionate and effective legal representation to those who have been affected by these tragic events. Our team will work tirelessly to investigate, gather evidence, and build a strong case on your behalf.
Don't wait to seek legal help if you have been involved in a DUI accident. Contact us today to schedule a free, no-obligation consultation. We'll fight for your rights and help you seek the justice and compensation you deserve.