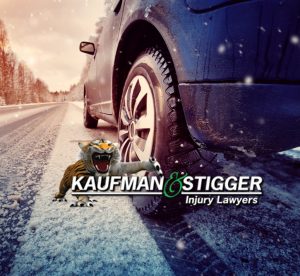 Winter weather always seems to catch some Lexington drivers by surprise. Anytime the temperature dips below freezing every motorist should be adjusting their speeds to be able to handle the possibility of slick patches. Those speeding drivers may have less room to stop on less dependable road surfaces.
Kentucky State Police (KSP) will tell you that most speeding tickets are given when motorists are obeying the posted limits, but when weather or heavy traffic are involved the speed limit drops to whatever is safe for conditions. You can get a traffic fine for moving too fast when bridges or overpasses are icy or snowy.
The KSP documents how weather involved accidents keep them busy every month of the year and some of those collisions result in tragedy. Wet roads were factors in 27,420 accidents in 2019 accounting for 20% of accidents overall. Snow, slush, and ice were factors in over 2,500 collisions. A tragic 132 of those weather-related accidents involved fatalities.
Accidents on Icy New Circle Road in Lexington
Lexington drivers faced treacherous driving in spots along New Circle Road in Lexington on Monday morning on January 4, 2021.
The  Lexington Herald-Leader reported on multiple crashes on the outer loop of New Circle Road near Harrodsburg Road. There was also a large pileup of vehicles on the inner loop at Versailles Road. The inner loop eventually had to be shut down for a while. At least one person was injured in the morning crashes.
A police lieutenant said that one wreck grew to involve eight cars at one point. He also said at least one of the accidents was caused by ice on an overpass. Officers were also called to reports of ice on bridges across the city.
Support for Accident Victims on New Circle Road
Accident victims may be convinced that no one has to take the blame when collisions occur during icy conditions. That's what insurance companies want you to think. Drivers are still responsible for their actions on the roads, even when mother nature throws a curveball.
Drivers must still show caution when the weather gets bad. If they slide into someone or ram another car from behind, they can be held liable for not traveling at a safe speed for the conditions. If you are hit by a driver who was traveling too fast for the circumstances you can file a claim for damages against his or her insurance company.
These accidents on slippery roads can be minor fender benders but they can also be much more serious. A rear-end collision can damage your neck and spine. A dangerous head-on collision can cause permanent brain damage and break bones. These serious injuries can require surgeries and lifelong physical therapy. All of this, while you may not be able to return to work to earn money to even begin to pay for hospital bills. Filing a civil lawsuit can be the best way to make sure an insurance company takes your pain and your bills seriously.
Contact a Lexington Car Accident Lawyer
After a serious injury in an accident during icy conditions talk to a Lexington Car Accident Attorney you can trust to be on your side and fight for your fair compensation. Another driver chose to drive faster than what was safe and caused your injury, you should not have to pay any more for his or her mistake. To discuss your case, contact Kaufman & Stigger, PLLC today, by clicking here.