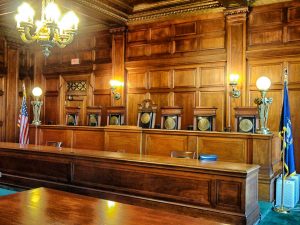 The wheels of justice will turn once again in Kentucky as COVID-19 restrictions ease. It's good news for personal injury victims who may have been waiting for a year or more to seek justice for injuries suffered due to the carelessness of someone else.
On Tuesday, May 18th, 2021, Chief Justice of Kentucky John D. Minton Jr. announced that almost all COVID-19 restrictions for the state court system are going away. The change is effective immediately.
The order eliminates most health and safety requirements that had limited in-person court operations since the pandemic began.
People can return to courthouses and facilities as long as they don't have COVID-19 symptoms or have tested positive for or been exposed to COVID-19.
Here are a few other highlights of the return to normalcy in the Kentucky Court System:
Fully vaccinated people won't have to wear masks, but for the unvaccinated, masks are still strongly encouraged. A judge still determines the mask policy in his or her courtroom. Masks are still required if ordered.
The orders lift most restrictions on jury trials but require continuances, postponements, and recusals for attorneys, parties, and jurors who are ill or at an increased risk from COVID-19.
The administrative orders still suggest that remote technology be used when possible and that people with previously scheduled remote hearings continue to meet remotely.
The start date for show cause dockets for payments of fines and court costs will remain on July 1, 2021.
The State of Kentucky plans to lift remaining COVID restrictions on all sectors including on businesses, concerts, and sporting events on June 11.
Chief Justice Minton said, "After the most challenging year in the history of the modern court system, I am pleased to announce that the Supreme Court has lifted most of the COVID-19 restrictions for employees, elected officials, and those entering court facilities across the commonwealth."
For personal injury victims who have had to deal with mounting medical bills and lost wages from an accident that wasn't their fault these changes will hopefully offer a quicker path to justice.