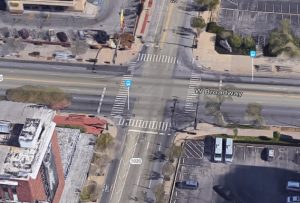 Pedestrians in Lexington often have to seek out the safest way to cross the city's many giant intersections as multiple lanes of traffic stream through. Crosswalk markings and pedestrian signals can be in place, but that doesn't mean it's safe for any pedestrian to try to make it across.
Local government officials claim the city has 1,700 miles of sidewalk for pedestrians. They encourage people to use these paths, but the dangers of going anywhere on foot still remain. They also admit that in a single year 26% of motor vehicle fatalities in the city were pedestrians.
It only takes one driver to be paying attention to his or her phone, or playing with the radio and not notice a pedestrian in front of them. These mistakes can lead to terrible injury and can endanger lives.
Lexington Man Killed In Pedestrian Accident
A man trying to cross a Lexington road was struck and killed Wednesday night. WTVQ-TV reports the tragedy happened on Richmond Road at Fontaine Road just after 9 p.m. on December 16, 2020.
Police say the 32-year-old victim was trying to make it across when he was struck by a vehicle. The victim was taken to the University of Kentucky Medical Center where he was pronounced dead later that night.
The circumstances of the crash remain under investigation.
Support for Pedestrian Accident Victims and Their Families
A heartbreaking loss after a pedestrian accident will create overwhelming grief for the families left behind. These families will suddenly be left without the emotional support and the financial assistance the victim provided. Also in this difficult time, ambulance and hospital fees will start to show up and funeral expenses will need to be paid.
It can all be too much to bear for close relatives who have lost a loved one. At these times, to seek financial justice, families can file a wrongful death claim. The responsible driver's insurance company can be called upon to help with these expenses and also provide for the family in the years to come. Nothing can bring a parent, a spouse, a son or daughter back, but compensation from a wrongful death claim can prevent the family from falling into financial ruin after such a devastating loss.
A spouse or domestic partner or children of the deceased are all allowed to file a wrongful death claim on behalf of the family. An attorney can also file this civil lawsuit for the family. This claim can be considered even if victims weren't crossing at a crosswalk. Any driver is still required to show a "duty of care" to any unprotected and defenseless pedestrian no matter where they are encountered. An at-fault driver can still be held liable for the consequences of an accident.
Contact a Lexington Wrongful Death Lawyer
Families who have lost a loved one in an accident often wonder if they need an attorney, and the answer is almost always yes. The insurance company agents have years of experience and are good at their job which is to pay you and your family as little as possible or nothing at all. You need someone just as experienced to help you level the field.
Talk to a Lexington Wrongful Death Attorney you can trust to be on your side and fight for your fair compensation. The attorneys at Kaufman &  Stigger, PLLC, have that knowledge and a combined 100 years' experience in helping clients get the compensation the family will need to protect their future. To discuss your case, Kaufman & Stigger, PLLC today, or click here to contact them online.