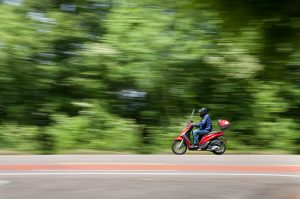 Mopeds riders have the same rights to local lanes in Louisville as any motorcyclist or car driver. This protection from Kentucky traffic laws should guarantee a safe ride for moped operators. Yet, when distracted drivers take their eyes from the roads and stop making proper mirror checks, riders can be put at great risk.
Drivers can also proceed recklessly, traveling too fast and ignoring basic care that should be shown to all others using the road. These mistakes can result in fender benders for cars, but Moped riders travel with very little protection. Any collision can prove many times more serious for someone on a moped. A severe injury and even the loss of life are much more likely.
Deadly Hit-And-Run Moped Accident in Louisville
A woman tragically lost her life while riding a moped in southeast Louisville Friday afternoon. WLKY-TV reports the accident occurred around 3:45 p.m. at the intersection of Hikes Lane and Goldsmith Lane on July 2, 2021.
Louisville Metro Police found that a car was driving west on Hikes Lane at a high rate of speed and then ran a red light. It then struck a moped that was traveling southbound on Goldsmith Lane. The moped driver, a 62-year-old woman, died later at the hospital.
Investigators say the responsible driver fled on Bardstown Road. Police have not provided a description of the car or the driver. LMPD officials ask any witnesses who have information about the accident to call them.
Seeking Assistance for Moped Accident Victims and Their Families
Families are put through so much after a tragic accident. A loved one has been taken from them and the love and financial support they provided will no longer be a part of their lives.
Close relatives can face the costs of a funeral service and the fees charged for emergency response and hospital care before the deceased passed on. Estate settlement can also end up costing the family hundreds of dollars in legal fees and taxes. To prevent the family from experiencing a financial disaster, a wrongful death claim can ask the at-fault driver's insurance company for help.
If a hit-and-run driver goes unidentified a family may be forced to try another route to get help with their hardships. The victim may have been covered by a car insurance policy or may have been included on a family member's policy. In this case, a wrongful death claim could be filed against the uninsured motorist portion of the coverage.
Contact a Moped Accident Lawyer Serving Louisville Families
Families should never face the consequences of a tragic accident alone. Sadly, insurance companies can make it difficult for families to get fair support for what someone else's mistake has put them through.
It's important for victims and families to have experienced legal representation when they must face off with insurance adjusters. A personal injury lawyer will be prepared for every tactic insurance companies may try.
Talk to a Louisville Car Accident Lawyer you can trust to be on your family's side and fight for what's fair from insurance companies. To discuss your case, contact Kaufman & Stigger, PLLC today, by clicking here.