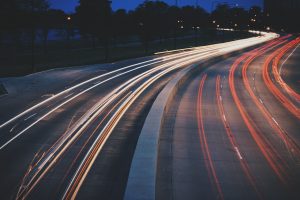 Interstate travel around Louisville can be treacherous at any hour. But traffic during the morning and afternoon commutes puts even safe drivers at risk.
Motorists can be focused on a cellphone screen or may be speeding to get to work or school. These reckless acts put all other drivers and passengers on the road in danger of serious accidents and injuries.
Two People Injured After a Major Interstate Crash in Louisville
Two people were taken to the hospital after a traffic accident in southern Louisville during the Wednesday morning commute. WDRB-TV reports the accident occurred around 7 a.m. on the Gene Snyder Freeway near I-64 and the Middletown Eastwood Exit on October 5, 2022.
Louisville Metro Police arrived to find that two vehicles were involved in a collision in the northbound lanes of the freeway. In video from the scene, it appeared that one SUV had come to a stop partly up an embankment. Another vehicle was in the left-most lane.
An LMPD spokesperson said that two people were taken to the hospital with injuries. Officers continue to work to determine the circumstances surrounding the crash.
Finding Support for Victims After a Louisville Interstate Accident
Victims injured in a scary interstate accident should allow paramedics to take them to an emergency room. After treatment for even minor injuries, victims should also see their own doctors in the days that follow.
The shock and adrenaline of being in an accident can sometimes mask the aches and pains of a more serious injury until a day or two later. A hairline fracture or a traumatic brain injury may not be apparent until the patient wakes up the next day. These leftover pains should be checked out thoroughly to make sure they aren't something more serious. These major injuries are sometimes missed on the night of an accident.
Accident victims can file injury claims against an at-fault driver's auto insurance provider. This civil claim would seek payment for all recovery costs now and any expected in the weeks to come. Victims could also receive compensation for the time away from work and the paychecks they lose while healing. The emotional trauma of being in a bad accident and having to manage a painful recovery could earn additional support.
Contact a Louisville Car Accident Lawyer
Allow a Louisville Car Accident Attorney to secure evidence and testimony to build a strong case for you that an insurance company will have a difficult time challenging. You didn't cause your accident and you shouldn't have to pay for your medical bills and replace lost income because of it.
The attorneys at Kaufman & Stigger, PLLC, have an extensive background in protecting the rights of accident victims in Kentucky and earning them the compensation they need to recover. To discuss your case in a free case evaluation session contact Kaufman & Stigger, PLLC today.
If you decide we can help you get more out of your Louisville car accident injury claim, you won't need any upfront money. Our attorneys don't get paid unless we win your case for you.