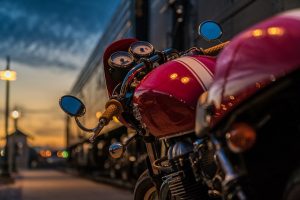 Motorcyclists in Louisville always ride at the mercy of careless drivers. Motorists in cars, trucks, and SUVs who aren't checking their mirrors and staying focused on the road ahead can miss a rider beside them, behind them, or right in front of them.
At night, the risks increase for motorcyclists, when drivers may spend too little time looking in one direction and misjudge the distance of an approaching rider due to the single headlight of a motorcycle. Drivers can jump out in a lane too early and leave a rider no room or time to avoid a devastating collision.
Louisville Motorcyclist Tragically Killed in Collision in Rolling Hills Neighborhood
A motorcyclist lost his life after an accident involving an SUV Monday night in northeast Louisville. WAVE-TV reports the collision occurred just after 8 p.m. on Westport Road near the Goose Creek Road intersection on February 13, 2023.
Louisville Metro Police determined that the driver of an SUV traveling east was making a left-hand turn into a parking lot. The turn was made in front of a westbound motorcyclist and the rider struck the SUV.
Sadly, the motorcyclist died before he could be taken to the hospital. The victim's identity and age were not released.
The SUV driver was not hurt and remained on the scene to cooperate with the accident investigation. The LMPD's Traffic Unit continues to look into the circumstances surrounding the accident.
Earning Support for Families After a Tragic Louisville Motorcycle Accident
Families who have a loved one taken from them in a motorcycle accident can face financial difficulties in a matter of days. The costs of emergency response and the expense of a funeral can be enough to leave close relatives on the verge of bankruptcy.
It's important that families take action to protect themselves in the short and long term. They can ask for help from the at-fault driver's car insurance provider by filing a wrongful death claim. This civil lawsuit seeks support to help with these bills and also to replace the weekly paychecks the victim may have provided the family.
A spouse, children of the victim, and in some cases the parents of the victim can file a wrongful death claim on behalf of the rest of the family. A Louisville personal injury attorney can also represent the family and file this claim.  The attorney would make sure family members receive every benefit available and are not taken advantage of by an insurance company looking to protect its own profits.
Contact a Louisville Motorcycle Accident Lawyer
Insurance adjusters often try to blame motorcyclists for their own accidents no matter what a collision report states. This is an unfair practice that is often used to avoid paying a victimized family the support they need.
Contact the experienced Louisville Motorcycle Accident Lawyers at Kaufman &  Stigger, PLLC, to find out what protections exist for your family after a tragedy. It's a free case consultation that comes with no obligation. If you feel we can help you secure more for your family, you won't need any money now. You don't pay an attorney fee unless we win your case for your family.