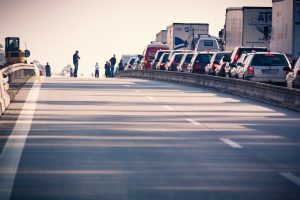 Interstates crisscross Lexington and can provide a fast route through the city. But when drivers get careless in their lanes or reckless with their speeds, dangerous collisions become much more likely. Vehicles often travel in packs on interstates and a small mistake by one driver can send multiple cars into crashes.
Drivers and passengers may face injuries that may seem minor at first. But as the shock of what's happened wears off, new pain may appear to indicate an injury the victim wasn't aware of. X-rays can reveal hairline fractures and headaches and sensitivity to light may indicate a serious Traumatic Brain Injury. Kentucky car accident victims need to be absolutely sure of injury severity before signing away their right to valuable insurance benefits.
Lexington I-75 Accident Sends Several People to the Hospital
A massive multi-vehicle weekend accident on Interstate 75 left several people injured. LEX18-TV reported the chain-reaction accident occurred Sunday morning on the interstate near exit 104 on August 7, 2022.
Kentucky State Police responded to the accident in the southbound lanes near mile marker 103 that involved between 8 and 10 vehicles. Drivers were diverted onto Athens Boonesboro Road.
Officials on the scene confirmed that several people involved complained of injuries and were taken to the hospital. The exact number of patients hasn't been released.
Kentucky State Police officers continue to examine the circumstances surrounding the accident to determine how it happened.
Finding Support for Kentucky Interstate Accident Victims
Lexington traffic accident victims should visit a doctor in the days that follow a collision to make sure what seemed like minor injuries aren't actually something much more serious.
For the victims of an accident who suffer a serious injury, filing an insurance claim is an effective way to hold an at-fault driver's insurance company responsible for every cost of recovery. In a multi-car pile-up, there may be several drivers who bear some blame for a victim's injuries. This would allow victims to request additional help from several insurance providers.
Injured victims should be seeking full compensation for all current medical bills and any bills expected in the future. Patients should also be reimbursed for lost time at work while trying to heal. With the help of a skilled Kentucky Car Accident Lawyer, victims could also demand support for the physical pain they endure and the emotional trauma they suffer after such a frightening experience.
Contact a Kentucky Car Accident Lawyer
Allow a Lexington Car Accident Attorney to secure evidence and testimony to build a strong case for you that an insurance company will have a difficult time challenging.
The attorneys at Kaufman & Stigger, PLLC, have an extensive background in protecting the rights of accident victims in Kentucky and earning them the compensation they need in recovery. To discuss your case in a free case evaluation session contact Kaufman & Stigger, PLLC today.
If you decide we can help you get more out of your Lexington car accident injury claim, you won't need any upfront money. Our attorneys don't get paid unless we win your case for you.