A car accident can occur in the blink of an eye. Sometimes victims never even see the accident coming. Until they get their senses back, they might not even know what just happened. Victims might not understand the gravity of what just occurred medically, financially and emotionally either. That's because they don't yet realize that an entire family can be affected by a car crash that was caused by the carelessness and negligence of somebody else.
Case Preparation Breeds Success
If that's what you and your family are experiencing, you've come across the right website and law firm. Our extensive experience, solid reputation and countless successes are what allows us to obtain compensation for people injured in Lexington car accidents whether they occurred on New Circle Road or on Main Street. Professional and thorough preparation of every one of our clients' cases is critical to continued successes. If an opposing insurer is unreasonable, we're already prepared to try your case in front of a judge and jury to get you the compensation that you deserve.

Accidents on New Circle Road
Kentucky Route 4, better known as Lexington's New Circle Road, serves as the beltway around the city with an inner loop and an outer loop traveling clockwise and counterclockwise, circling Lexington with interchanges leading to each of the surrounding towns, as one travels clockwise the exit numbers leading to the interchanges increase from 2 to 19.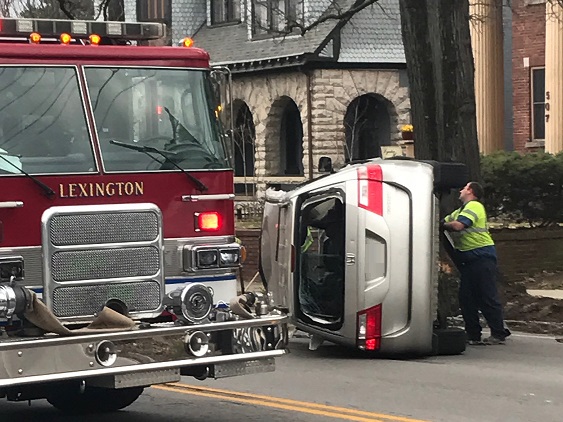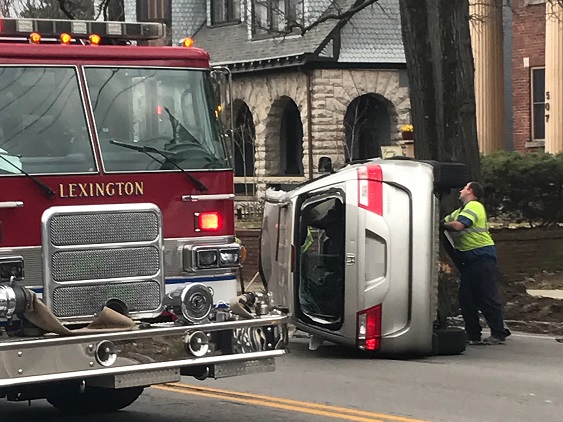 While this is normally a fairly safe road there are a few dangers we hear about most often.
Congestion: Because there are no other freeways leading through Lexington, New Circle Road becomes very congested during rush hours. The heaviest traffic is on the back side of the highway from Newtown Pike exit 9 through Tates Creek Road exit 18, due to all of the people trying to head into town in the morning rush and out of town in the evening rush.
Distracted drivers: Even though the speed limit is 55 mph on the backside of the beltway, traffic often runs well over 70mph. Traffic can be traveling at a high speed and come to an instant slow down or stop due to an accident or the ongoing construction. When someone isn't paying attention this results in a rear-end collision.
Uber and delivery drivers: New Circle Road serves as the quickest access for pizza delivery drivers, Uber and Lyft drivers and delivery trucks including tractor trailers. These drivers are sometimes more focused on the time frame of their deliveries than they are the safety of other drivers.
Our Objective
Yes, we're aggressive, but in our professional environment, we have to be. That adjuster from the opposing insurance company who sounds friendly and concerned is actually looking at his employer's bottom line. Part of that adjuster's job is to devalue and whittle away at your claim so that his or her employer ultimately pays you as little compensation as possible or even no compensation at all. We can put our knowledge, experience and professional reputation to work for you. Our objective is to maximize any compensation that you might receive for your injuries. To speak with knowledgeable personal injury lawyer from our law firm, you need only phone us. We'll arrange for a free consultation and case review with a quality personal injury lawyer from our office. That will be the first step in getting the lives of you and your family members back in order.
Damages from a Car Accident
Often when people are seriously injured in an accident, they're unable to work, no matter how badly that they want to. Suddenly, through no fault of their own, they're rendered unable to pay their rent or mortgage, utilities and thousands of dollars in medical bills. That's when they turn to us to pursue compensation for their damages. Under Kentucky law, just some of those damages might consist of the following:
Past medical bills and medical bills reasonably expected to be incurred in the future.
Past lost earnings and earnings reasonably expected to be lost in the future.
Any permanent disfigurement.
Any permanent disability.
Pain and suffering.
Diminished quality of life.
Other damages including funeral and burial costs in the event of a wrongful death.
Possible Liable Parties
Although another driver could be held liable for your injuries, other people or entities might have contributed to them. Those can include a driver's employer, the manufacturer of your vehicle, the manufacturer of a faulty vehicle component or part, a vendor of alcoholic beverages or even the city, county or state that designed and maintained a roadway.
Don't Think That You'll Be Treated Fairly
Sometimes liability is admitted, but the opposing insurer will still question the reasonableness of the damages that the victim claims. Remember that the insurer's primary concern is its bottom line and not the victim's. That's why you shouldn't assume that the opposing insurer is going to make a fair and reasonable settlement offer to you. That even applies with your own insurance company if you're making an uninsured or underinsured motorist claim. Your bottom line is precisely the reason why it's so important for you to retain an experienced, aggressive and effective Lexington car accident lawyer to represent you in any personal injury case.
Contact a Lexington Car Accident Lawyer today
Take advantage of our free consultation offer, and put yourself in contact with a Lexington personal injury lawyer from our offices right away after being injured in any Kentucky accident by calling 1-800-937-8443. We'll listen to you carefully and answer your questions. Then we'll advise you of your legal options. If we enter into a retainer agreement, we won't even charge any legal fees unless we obtain a settlement or verdict on your behalf. Get your life and the lives of your family members back on track. Remember that it's our mission to maximize any compensation that you might receive.
Get in touch with us today and Get the Tiger on Your Side!
Additional resources: