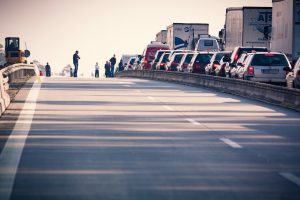 Louisville is encircled by interstates and fast-moving highways. These expressways can be handy for getting around town, but the constant traffic levels are always a concern for drivers trying to travel safely.
More traffic means more careless drivers, drivers distracted by their phones, and drivers who purposely push the speed limits well beyond what's safe. They can all veer into the path of other cars or lose control along busy lanes and put many other motorists at risk.
Louisville Man Killed in Interstate 71 Collision
A crash in northern Louisville claimed the life of one person early Monday morning. WAVE3-TV reported the accident happened along I-71 near the I-264 interchange on July 26, 2021.
TRIMARC traffic response system documented a multi-vehicle crash that closed the northbound lanes at around 7 a.m. One victim was transported to University Hospital where he died a few hours later. He was identified as a 65-year-old man from Louisville. There was no word on any other potential injuries involved in the accident.
The Louisville Metro Police are investigating the circumstances that lead up to the collision.
Finding Assistance for Victims and Families After a Louisville Accident
Terrible accidents not only affect the victims but also put the families left behind through heartbreaking mental anguish. Families can also be targeted financially as funeral and burial service expenses come due. The cost of ambulance service and hospital care before victims pass on are also added up and sent off in the form of enormous medical bills that can end up the responsibility of close relatives.
In order to secure the family's financial state, a wrongful death claim can be filed against the at-fault driver's car accident insurance. Close relatives like a spouse or domestic partner or children of the victim are allowed to file this lawsuit and secure support from those who should be providing help.
For surviving victims of accidents left to recover from injuries, a claim for damages filed against the driver to blame's insurance provider can earn assistance. Victims could receive compensation for all medical recovery bills and be supported through the reimbursement of lost wages while they've missed work.
Contact a Louisville Car Accident Lawyer
If you or a loved one is the victim of a major accident, please speak with a personal injury attorney serving Louisville before talking to any insurance representative. Insurance companies are well-practiced in the art of convincing victims and their families to accept far less in compensation than they need to fully recover.
Talk to a Louisville Car Accident Lawyer you can trust to be on your side and fight for your family's fair compensation. The attorneys at Kaufman &  Stigger, PLLC, have that knowledge and a combined 100 years of experience in helping clients get the support they'll need to rebuild their lives. To discuss your case in a free consultation, contact Kaufman & Stigger, PLLC today, by clicking here.