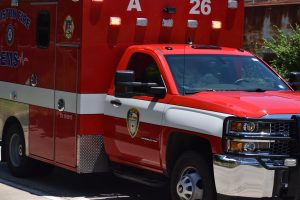 Pedestrians in Lexington already face the heightened risk of an impact from a car no matter what part of the city they travel in. Distracted drivers can make any walk a frightening experience when they proceed without properly monitoring the road in front of them.
That risk for anyone on foot increases exponentially when drivers choose to get behind the wheel while under the influence of drugs or alcohol. Their judgment is impaired and spotting the profile of a pedestrian in a crosswalk or anywhere along a sidewalk can become nearly impossible. Drivers may not even have the awareness to hit the brakes when heading for a pedestrian. Their series of bad choices leads to a devastating collision.
Pedestrian Struck By DUI Suspect in Lexington
A pedestrian was injured after a strike from a vehicle with a DUI suspect at the wheel Tuesday morning in central Lexington. WTVQ-TV reported the accident occurred around 8:30 a.m. near the intersection of South Broadway and Angliana Avenue on June 29, 2021.
Lexington Police found that a pedestrian was struck by the driver of a Volvo. The female victim was rushed to the hospital with non-life-threatening injuries. Her condition has not been released.
The driver of the Volvo was arrested on DUI charges.
Support for Lexington Pedestrian Accident Victims
A pedestrian accident involving a vehicle can leave victims in pain and their families out of their minds with worry. The anguish and frustration only grow when it's discovered that the accident could have easily been prevented.
A driver under the influence puts all other motorists at risk and can cause especially dangerous injuries for defenseless pedestrians. Victims facing a difficult recovery and the high cost of medical care are encouraged to file a claim for damages against an at-fault DUI suspect and his or her car insurance company. This claim would demand help with hospital expenses and lost paychecks while missing work.
This civil claim would move ahead even as a DUI suspect faced charges in a criminal court of law. The accident claim would be a separate case and would seek to provide financial relief for a victim as soon as possible.
Contact a Lexington Pedestrian Accident Lawyer
Talk to a Lexington Pedestrian Accident Attorney you can trust to be on your side and fight for your fair compensation. Pedestrian accident victims deserve to be able to focus on healing and getting back on their feet again. Allow the attorneys at Kaufman & Stigger, PLLC, to handle all contact with insurance agents seeking to rob you and your family of compensation. To discuss your case, contact Kaufman & Stigger, PLLC today.