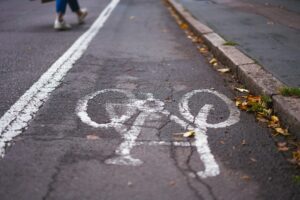 Kentucky provides some beautiful and scenic routes for motorists and cyclists. It's when cars and those on two wheels must share the road that rides can take a scary turn.  Bicyclists in Kentucky enjoy the same rights to the lanes as motorists. But when drivers don't show the extra care and caution due to a defenseless rider, devastating accidents can occur. If you or a loved one are the victims of a bicycle accident because of a careless driver, focus on your health while a local legal representative secures your financial recovery. Kaufman & Stigger, PLLC, represents Kentucky accident victims and we are advocates for the rights of cyclists in every corner of our great state. No bicycle accident victim should face the costs of an emergency room visit. Not to mention days or weeks of hospital bills alone. The Bicycle Accident lawyer at Kaufman & Stigger, PLLC, work tirelessly to ensure victims get the support they need to return to their bikes again.
Contact us
for a free, no-obligation consultation on your case.
Biking Laws in Kentucky
As stated by the Kentucky Department of Transportation, bicycles are considered vehicles. As such, bicyclists have the same rights and responsibilities on state roads as other motorists. Under the law, drivers of motor vehicles must share the road with bicyclists and may not violate their right of way. Bicyclists must make turns from the appropriate lanes and signal their turns with hand signals or a mechanical device. Riders must travel in bike lanes if provided. Kentucky has no laws prohibiting cyclists from riding on sidewalks, but cities can determine their own statutes. For example, Louisville doesn't allow people to ride on sidewalks downtown. Riders traveling at night are required to have proper lighting on the front and back of the bike. Check the Kentucky Transporation Cabinet's guidelines for cycling at night
here
. The State of Kentucky does not require riders to wear bicycle helmets, but some cities in Kentucky do require some riders to wear them. Louisville asks riders in any metro park under the age of 18 to wear a helmet.
What If I Wasn't Wearing a Helmet in My Accident?
As noted above, the state of Kentucky doesn't require any cyclist to wear a helmet when they ride. You can't receive a citation for traveling without a helmet, but getting into a collision without a helmet may affect how much compensation you are eligible for. Wearing a helmet is proven to greatly reduce the risk of a serious injury (especially head and brain injuries) in a bicycle crash. You can still earn substantial compensation if you are hurt without a helmet on. However, you may face a reduction in your award. Kentucky follows the legal concept of comparative negligence. It signifies that drivers and bicyclists can share liability in an accident. For example, a driver may have to accept 90% of the blame in a crash for being careless, but a jury may determine that you were 10% to blame for the severity of your injuries. You could be awarded compensation, but your 10% of blame would be deducted from the total.
Do You Have to Stop for Stop Signs in Kentucky?
Yes. Just like drivers, bicyclists must stop for all stop signs and traffic lights. They must also observe the proper right-of-way in intersections. As stated in 
Section 70.03 (C) of the Traffic Code
: "
Every person riding a bicycle
 or an animal 
on any roadway
, and every person driving any animal on any roadway, and every person driving any animal-drawn vehicle 
shall be subject to the provisions of this traffic code applicable to the driver of any vehicle, except those provisions of this traffic code which by their very nature can have no application
."
What to Do At the Scene of a Kentucky Bicycle Accident
Bicycle Accident victims can absorb devastating impacts or be unable to move after taking a hit. If you can stand and move about after a collision, it's important to collect a few vital pieces of evidence. This evidence will only be available on the scene and only until the scene is cleared. First, contact 911 after any collision no matter how minor you feel your injury is. Then, if up to it, start gathering important details that will help build a strong case proving you weren't to blame:
Give officers a complete report of what happened. Allow them to construct an accurate collision report. Let paramedics document every injury. Go to the hospital if necessary.
Take photos with your phone. Illustrate damage to your bike and the vehicle involved. Show relevant lane markings and traffic signs. Get pictures of any signage that shows the driver works for a transportation, rideshare, or delivery company. Note the time of day and weather.
Exchange information with the driver. Don't discuss your injuries or who was to blame in the accident. The driver's insurance company will try to use these statements to reject your claim later.
Discuss what happened with witnesses. Find out if they observed careless or reckless behavior from the driver before the accident. Get contact information from witnesses.
Retain your damaged bike and shoes and clothing. These items will be valuable evidence for your case.
Schedule an appointment with your physician. Evaluate all injuries and point out any new pain that has arisen in the days since the accident.
Do I Need a Bicycle Accident Lawyer?
When your injuries are minor and a collision has left you with mostly just property damage, a personal injury attorney usually isn't necessary to receive fair treatment and get your bike repaired or replaced. A bicycle accident resulting in a serious injury can be a different story. When your injury results in large hospital bills and rehabilitation costs, insurance companies can delay paying you what's fair and instead look for ways to pin the blame for an accident on you. They can also leave you waiting on financial support for months. Then when you're desperate to get out from under medical bills and to pay things like your rent and car payments, they hope you'll accept a "lowball" offer that doesn't cover everything you've endured. Kaufman & Stigger, PLLC, deals with these tactics on almost every personal injury case and we've dedicated our careers to making sure our clients don't get robbed of compensation. Our attorneys protect your rights and make sure you aren't in the dark about the benefits available to you. Our legal team also takes up the battle against unhelpful insurance companies so that you and your family can focus on recovery. You may not know what your accident is worth, but a bicycle accident lawyer at Kaufman & Stigger, PLLC, knows exactly what you should receive in order to rebuild your life.
What Happens After a Kentucky Hit-And-Run Bike Accident?
Calling upon a careless driver's auto insurance provider for financial support can be difficult enough, but it can be impossible when the driver to blame leaves the scene of an accident to escape identification. This thoughtless act leaves bicyclists and their families to face the enormous costs of recovery alone. Victims do have options to get financial support even when a hit-and-run driver is never apprehended. Cyclists may be protected through their own car insurance policies under the uninsured motorist coverage. Victims without car insurance may have coverage under a family member's policy. A claim could be filed with the victim's own company and financial support could be awarded. It's important to remember that despite the fact you're working with your own insurance provider, you'll still have to watch out for common insurance tactics. Your own insurance adjusters can purposely underestimate the medical costs and lost wages you suffer so they don't have to pay out as much. Your personal injury attorney would never allow this type of "bad faith" behavior and monitors settlement negotiations to ensure you receive all that you need. In cases where a hit-and-run suspect is located and charged, victims don't have to wait to file a claim for damages. This civil claim targets the driver's insurance company. It seeks fair support for every physical, emotional, and financial burden you've faced. You can file a civil case through your bicycle accident lawyer even when the suspect faces criminal court proceedings. The two cases are separate.
What Kind of Things Can I Receive Compensation for After a Kentucky Bicycle Accident?
Your bicycle accident lawyer will be negotiating to earn you the maximum compensation available for you and your family. When a settlement is accepted or a judgment is awarded, victims should expect help with every hardship they've faced and may continue to face. These are a few of the factors that can earn you financial support:
Past and future medical bills.
Past and future lost earnings.
Lifelong support for a permanent disability.
Compensation for the emotional and physical pain you've endured.
Cost of counseling and psychological services. The turmoil you may suffer while unable to take rides and the anxiety you may experience when it's time to return to your bike.
Repairs to Bicycle or Replacement.
Contact a Bicycle Accident Lawyer Protecting Kentucky Riders
Cyclists should get extra care by Kentucky drivers no matter where they meet. The simple act of slowing down at the site of a rider could save countless lives a year. Unfortunately, there are careless and reckless drivers on Kentucky roads every day and they can place cyclists at risk of accidents and major injuries. If you've been the victim of a driver's poor decision or you've lost a loved one in a bicycle accident, please
reach out
to the dedicated Attorneys at Kaufman & Stigger, PLLC. We provide a free and confidential case evaluation session to victims and their families. Our firm strives to earn the most money possible from insurance companies while disturbing you only when absolutely necessary. We want to see you return to the road again as soon as possible without worries over how to pay your medical debt and how to support your family.
Frequently Asked Questions
Can a Family Earn Financial Support If a Cyclist Died in an Accident?
Yes. Families who have lost a loved one can file a wrongful death claim against the at-fault driver's insurance provider. This civil claim can help protect the family from funeral costs, emergency response fees and replace the lost income the deceased can no longer provide.
What If a Dog on the Loose Bites Me While I'm on a Bicycle in Kentucky?
The dog's owner can be liable. Kentucky is a strict liability state. That means dog owners can be responsible for bites even if the dog had never shown aggression before. Dog owners can also bear liability if a dog chases a cyclist and the rider crashes.
How Long Do I Have to File a Claim Over a Kentucky Bicycle Accident?
One year for an injury claim. Kentucky's statute of limitations provides up to 12 months from the date of an accident for victims to file a personal injury claim. However, victims have a two-year deadline when filing a property damage claim.