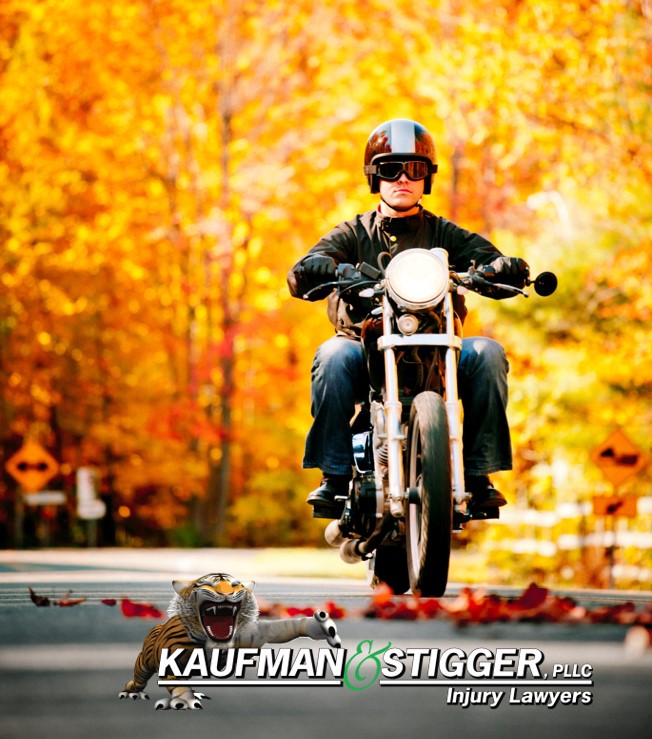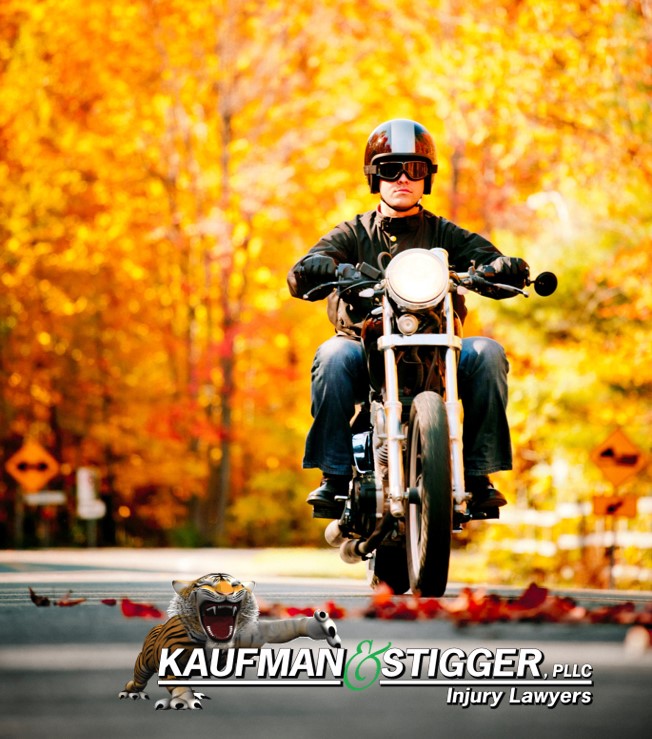 Many victims of motorcycle crashes are seriously injured or even killed as a result of the carelessness and negligence of somebody else. Almost always, the person who caused the crash was the driver of another motor vehicle. If you were injured in a motorcycle accident, or a family member died one in or around Bowling Green, you'll want to speak with us as soon as possible.
We have a proven record of successful motorcycle accident results, including a $1.2 million trial verdict for a 30-year-old male active in the US Military who was driving a motorcycle and was hit by a truck.
Contact us today and speak directly with an experienced motorcycle injury lawyer for free who represents motorcyclists in Bowling Green. When you call Kaufman & Stigger, you Get The Tiger On Your Side!  For more information and a free case consultation, please call (502) 458-5555 or (800) 937-8443.
The Numbers:
According to the National Highway Transportation Safety Administration, 5,286 motorcyclists were killed in traffic accidents in 2016. That's a 5.1 percent increase from the prior year. Per miles traveled, people died in motorcycle crashes 28 times more often than occupants of passenger vehicles. When the driver of another vehicle is responsible for an accident with a motor vehicle, that driver was making a left turn 66 percent of the time. Maybe it's distraction, or maybe it's simple inattention, but most people who are responsible for these types of accidents say that they either never even saw the motorcycle, or they didn't see it until it was too late. On the average, motorcyclists have only 2.2 seconds in which to attempt to avoid a collision.
"Damages" for Bowling Green Motorcycle Crashes:
Rarely is there such a thing as a minor motorcycle accident. That's because other than maybe a helmet, motorcyclists are virtually unprotected. Unlike a passenger vehicle, they don't have a steel body and frame around them. There aren't any air bags or seat restraint systems on motorcycles either. The only crumple zones that a motorcyclist has consist of their own joints and bones. Assuming that another driver caused the crash that you were injured in, you may be able to seek compensation for your damages. Here are some of the damages that the law in Kentucky allows you to claim in connection with the crash:
Past medical bills and medical bills reasonably expected to be incurred in the future.
Past lost earnings and lost earnings reasonably expected to be lost in the future.
Any permanent disfigurement.
Any permanent disability.
Pain, suffering and mental anguish.
Loss of a normal life.
Other significant damages including funeral and burial expenses in the event of a wrongful death.
Kentucky Comparative Negligence Law
There are times when a motorcyclist might be partially at fault for an accident. Expect allegations of that nature by the insurer of the negligent driver in any intersection accident. What that insurer will be arguing is the law of comparative negligence. That's because it's going to try and push some or all of the blame for the accident over onto the motorcyclist. For example, in an intersection accident with a passenger vehicle turning left in front of a motorcycle, the motorcyclist might have been traveling 30 mph in a 25 mph zone. A jury might decide that the biker was 20 percent at fault for the crash. The percentage of fault attributed to the motorcyclist is then deducted from the jury's award. That 20 percent of faulted that was attributed to the motorcyclist would reduce a $100,000 verdict to $80,000.
In most states, if a claimant is found to be 50 or 51 percent at fault for an accident, he or she will be barred from receiving any compensation for damages at all. Kentucky is what's known as a pure comparative negligence state. What that means is that if a claimant is even 70 or 80 percent at fault for an accident, he or she might still recover an appropriate percentage of damages that were suffered.
Bad Insurance Companies
Now that you know about comparative negligence, you see that the opposing insurance company won't have your best interests in mind. Even if the driver who caused your crash was uninsured, don't expect your own insurance company to have your best interests in mind either. In fact, under those circumstances, you turn into your own insurance company's opponent. Whether it's the opposing insurance company or your own insurer, don't be surprised if you encounter bad faith in the handling of your insurance claim, especially in a motorcycle crash. Here's what bad faith might involve:
Unreasonably delaying the investigation of a claim.
Wrongfully denying a valid claim.
Tactics specifically targeted at denying a claim.
Unreasonably strict interpretation of an insurance policy's terms and conditions.
Contact a Bowling Green Motorcycle Accident Lawyer Now:
Our objective is to protect your rights and interests while maximizing the proceeds that you might receive in a settlement or trial. We have the knowledge, experience and resources that are necessary to conduct a thorough investigation into the full nature and extent of your damages and negotiate aggressively on your behalf. If you've been injured in a motorcycle accident in or around Bowling Green, or if you lost a family member in such an accident, don't give a statement of any kind to an opposing insurer. Contact us right away to arrange for a free consultation and case review.