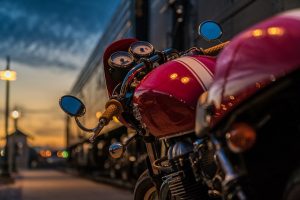 Motorcycle enthusiasts rank Kentucky as a fantastic place to take a ride. The scenery and destinations are some of the best in the country. But unfortunately, no place can
guarantee the safety of every rider
when careless motorists put them at risk so often. Drivers who hit motorcyclists or accidentally run them off the roads often fall back on the standard excuse that they couldn't see the smaller profile of the motorcycle. But the the truth is they really didn't take a long enough look at their mirrors, their blind spots, and even out their front windshields to properly track and protect anyone traveling nearby. Motorcycle injuries are caused by a lack of focus. As a rider, it's important to know what to do right there on the scene to make sure you don't get blamed for what happened. It's also vital to know what to expect in the days that follow so you don't get stuck paying for your own medical care while the responsible party gets a free pass.
Finding Assistance For Kentucky Motorcycle Accident Victims
The motorcycle crash lawyers at
Kaufman & Stigger, PLLC
, have stood by motorcycle accident victims across Kentucky for decades now. In addition, we move aggressively to file a claim for damages against an at-fault driver's car insurance company and make sure you receive support to pay for the best medical care available. We seek the maximum compensation for your injuries in an insurance settlement for you. And if insurance adjusters won't provide what's fair, we are ready and able to file a lawsuit and take them to court on your behalf.
Contact our attorneys
for a free, no-obligation consultation on your case. We don't stop fighting until you have the compensation for your pain and suffering.
What To Do On The Scene Of A Kentucky Motorcycle Accident
At the scene of an accident, there are important pieces of evidence that won't be obtainable at any other time. For example, cars will be repaired, skid marks erased, and witnesses can disappear once a scene is cleared. Motorcyclists can be shaken up and badly hurt anytime they are forced to the ground by a careless driver. However, if victims are physically up to it, they should collect a few details on the scene:
Dial 911. Even after minor accidents, alert 911. Insurance companies like to blame motorcyclists for their crashes. But with a police accident report backing you up, insurance adjusters can be forced to accept blame for their policyholders. Allow paramedics to check you out and write up all injuries. Go to the hospital if necessary.
Take pictures. Visually document injuries, motorcycle and car damage, license plates, skid marks on the pavement, traffic signs, and lane markings. If you are taken to the hospital, ask someone with you or a helpful witness to take a few photos.
Exchange information with the driver, but do not discuss the circumstances of the accident. Anything you say on the scene can be brought up later and used against you.
Talk to witnesses to find out what they observed. Get their contact information.
Look around to spot any security cameras at nearby businesses or homes that might have caught footage of your accident.
Schedule an appointment with your doctor to get your wounds documented.
Don't throw away evidence. Keep your damaged clothing and other personal items.
Contact a motorcycle accident lawyer. Find out what your injury is worth and how much financial support you'll require from an insurance company.
Avoiding Insurance Tactics After A Motorcycle Accident
Insurance companies aren't legally required to inform you of the benefits available to you and your family after a motorcycle collision. They'll be looking out for their policyholder and hoping to seriously cut the amount of financial support they have to provide for you. Insurance adjusters rely on some pretty common strategies to rob motorcycle accident victims of compensation. Personal injury attorneys have seen all of these strategies before and can easily avoid the pitfalls. However, injured victims don't always realize the rights they sign away when they agree to the first settlement offer they get. These are just a few of the tactics to watch out for:
Calling for a Recorded Statement – After a crash, the at-fault driver's auto insurance representative will be calling you to get a recorded statement. They hope you'll say something about the accident or your injury they can twist to use as evidence to deny your injury claim later. Politely decline to give this statement.
Shifting Blame to the Rider – Insurance companies have gotten good at blaming accidents on innocent motorcycle riders. They like to use stereotypes about motorcyclists to portray them as reckless drivers, even when the driver in the car, truck or SUV is clearly at fault.
Delay Claim Response: The simplest way an insurance company can get you to lower expectations for compensation is to set your insurance claim aside for weeks or months. Over this time you'll get behind on hospital bills and your normal monthly bills as you miss more and more time at work. Once you've reached the point of desperation, they begin the next tactic.
Low Settlement Offer: Insurance agents will make you a ridiculously low offer just to see if you'll accept it. This offer may not cover even half of your hospital expenses and injury rehab costs. If you don't have a skilled motorcycle accident lawyer watching over you, you might accept a settlement that leaves your family footing the bill down the road.
When Do I Need A Kentucky Motorcycle Accident Lawyer?
A trip on an interstate in Lexington or Louisville or a ride along the beautiful rivers in Northern Kentucky may end with a frightening accident. You may consider calling a personal injury lawyer, but you might also wonder if you can handle an insurance claim yourself. A good rule of thumb is that if the damage includes only property damage and a few scrapes or bruises, a motorcycle accident lawyer probably isn't necessary to get proper repairs for your bike handled. But when an accident involves a serious injury and medical bills reach into the thousands of dollars, insurance companies will begin to become unhelpful just as you are in need of the most assistance. You read about their tactics above. For some, having a personal injury lawyer is worth it just to combat the "bad faith" behavior by insurance adjusters, but the benefits for injured victims go well beyond that. You'll want a motorcycle accident attorney working on your case if any of the following is true:
Your accident involves a serious injury and mounting medical bills.
An insurance company attempts to assign fault in the accident to you when you were innocent.
Your collision involves multiple vehicles and drivers.
If you've been in an accident with a driver working for the government or the operator of a  public transportation vehicle. You'll also benefit from an attorney's help if a professional driver was responsible for your accident, such as a delivery driver or a rideshare employee.
Kentucky Personal Injury Claims Process
Recovering motorcycle accident victims may be hesitant to turn their case over to an attorney because they don't know what to expect in the personal injury claims process. Victims should know that Kaufman & Stigger, PLLC, Attorneys work hard to disrupt a client's life as little as possible. We handle all the communications with insurance providers and any corporate lawyers involved in your case. We want you to focus on healing and getting back on the road again, while we work to get the maximum compensation you deserve. For a better look at the stages of your case, here is a brief outline of the process:
Accident Case Consultations
Free case evaluation with Kaufman & Stigger, PLLC, to determine your best options. If you decide to let us represent your injury claim, we don't accept payment unless we win your case.
 Case Preparation
Your personal injury attorney prepares a strong case for you by investigating your accident. In addition, your legal team can collect evidence and documents, and prepare a list of damages to submit in an insurance claim.
Negotiating an Insurance Settlement
Demanding the most support possible for your injury and blocking common insurance tactics used to rob you of compensation. If an insurance company refuses to treat you fairly, we'll be ready to file a lawsuit and hold them accountable in court.
Earn Compensation
You and your attorney agree to a fair offer. As such, you'll receive money to pay for your medical care and to reimburse lost time at work.
What Kinds Of Things Can I Earn Compensation For After A Motorcycle Accident?
Your Kaufman & Stigger, PLLC, representative will have years of experience at the negotiating table and in the courtroom. For example, your attorney will document every hardship you've experienced and will experience in your insurance claim. This document demands fair compensation for everything listed. An insurance claim must seek financial support for the following and more:
Medical expenses to this point and any expected to be necessary in the future.
 Physical therapy/rehabilitation costs.
Lost wages you've suffered while missing work.
Pain and emotional trauma the victim has suffered through.
Loss of consortium for close family members of the victim. (Being without the support of a spouse, partner, family member, etc.)
Wrongful death. Families should never have to pay for a funeral and emergency response fees involved in the accident. They also need support in the future. So when the care, guidance, and financial support the victim would have provided will no longer be available.
Repairs or Replacement for your motorcycle.
Contact A Kentucky Motorcycle Accident Lawyer
Don't trust an insurance company to treat you fairly after you or a family member has been the victim of a careless driver. They hope you don't discover your rights as a victim and the protection you and your family are due under Kentucky law. At Kaufman & Stigger, PLLC, we work closely with motorcycle accident victims and their families to make sure they have everything they need to rebuild their lives. Trust your injury recovery to a Kentucky law firm with an extensive history of successfully fighting for the benefit of local victims and their families.
Contact Kaufman & Stigger, PLLC
, for a free case evaluation that is confidential and comes with no obligation to you or your family. Tell us the details and let us determine the best path to getting the compensation you need.
Frequently Asked Questions
What If I Was Partially To Blame For My Motorcycle Accident?
You can still earn support for your injury. Drivers and riders can share liability in accidents. You may receive compensation for your recovery. However, they would subtract your percentage of blame from the compensation you receive.
Can I Earn Compensation If I Wasn't Wearing A Helmet?
Yes. Insurance adjusters may argue that a helmet would have lessened your injuries. Furthermore, they may ask you to accept a smaller percentage of the liability for your injury. However, the driver would still owe you compensation equal to their percentage of his or her blame.
How Many Months Can I Wait To File My Motorcycle Accident Claim?
Twelve months. Kentucky provides victims up to one year from the date of the accident to file a personal injury claim. Waiting any longer usually means they will throw out your case.
Contact A Kentucky Motorcycle Accident Lawyer
With so many common causes of motorcycle accidents, including poor road conditions, it's hard for riders to remain safe. For example, even experienced motorcycle riders can fall victim. If you or a loved one were injured in a motorcycle accident, call our law offices today at (800) 937-8443.