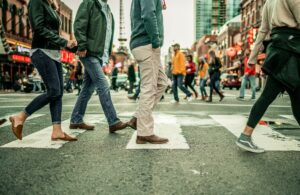 Kentucky has some beautiful places to take strolls. Pedestrians may travel tree-lined city thoroughfares to get to work or class or walk down a small-town main street to do some shopping or pay a bill. Unfortunately, pedestrians travel without protection when compared to the bulk of a car, SUV, or truck. And despite strict laws and safety campaigns, careless drivers still pay too little attention along sidewalks and at crosswalks to be able to spot defenseless pedestrians and slow down for them. A tragic accident can occur and the likelihood of a serious injury in a
pedestrian collision
is much higher than in a normal two-vehicle collision. Someone on foot may suffer broken bones or a traumatic brain injury and quickly build up thousands of dollars in medical bills. At this point, it's fair to wonder if the pedestrian should suffer the financial consequences of an accident they weren't to blame for.
Finding Assistance for Kentucky Pedestrian Accident Victims
Pedestrian accident victims should know their right to demand financial support for their recoveries. Insurance companies for at-fault drivers will work to limit this support, but you don't have to worry about their tactics when you have a skilled Kentucky Pedestrian Accident Lawyer safeguarding your interests.
Kaufman & Stigger, PLLC
, serves Kentucky victims and their families to ensure they have everything they need to make a full recovery after an accident. We offer victims and their families a free consultation and informational session to discuss the challenges they'll face when seeking support from an insurance company.
Contact
our offices to schedule this case evaluation. There's no obligation to you or your family and there are important things you should know before interacting with an insurance company.
What Should I Do If a Kentucky Motorist Hits Me?
If you are physically able, acting quickly to secure important evidence on the scene is the best place to begin when building your pedestrian accident case. You'll want an abundance of proof that shows you weren't at fault for your accident so that an insurance company can't try to blame you for what happened and limit the help they provide. Once you've called 911 and seen to your wellbeing and safety, try to collect these details:
Alert investigating officers about everything you saw before the accident. Include if you saw the motorist driving carelessly or recklessly or even distracted by a cellphone. The officer will be preparing a collision report that will serve as valuable evidence.
Use your cellphone to take photos. Show any damage the collision caused to the vehicle. Show lane and crosswalk markings on the scene. Take photos of any injuries that are visible and any damage to your personal property.
Get contact information from witnesses.
Survey the area for the potential of security cameras at local businesses or nearby homes.
Exchange information with the driver but don't make any statements about the accident or discuss how badly you are hurt. Insurance companies can use these statements to try to discredit your case later.
Make an appointment with your doctor. Document every pain. Notice any injuries that arise in the days after the accident. Sometimes the shock of an accident can mask injuries in the early going.
Don't get rid of evidence. Keep any damaged clothing and personal items.
What Happens When I Call a Kentucky Pedestrian Accident Lawyer?
Step One
– Free consultation with a Kaufman & Stigger, PLLC. This comes with no obligation for you or your family and your discussion is confidential. If you decide to hire our legal team, we don't collect payment unless we win your case.
Step Two –
Investigation and Case Prep Work. Our attorneys collect evidence, documents, and testimony to build a strong case.
Step Three
– Submit Your Claim. We send your claim to the insurance company listing all of the damages you've suffered and should be compensated for.
Step Four –
Negotiate your settlement. If the offer is not fair, we send it back and demand more.
What if a Family Member Was Killed in a Kentucky Pedestrian Accident?
In the most tragic cases, the life of a pedestrian can be taken. This can happen on the scene or in the days and weeks that follow as a victim fails to recover in the hospital. Relatives and friends will be devastated, but close family members must move to secure their financial stability after an accident. A spouse or domestic partner, children of the victim, and sometimes the parents of a victim can file a wrongful death lawsuit on behalf of the entire family. This civil claim seeks monetary support to prevent the family from falling into financial ruin. Close relatives may face the costs of medical care and emergency response, the expense of a memorial service and burial, and the fees associated with estate settlement. Family members often struggle with these expenses after they've suddenly lost the income the deceased had always provided. The financial support will also be missed in the years to come and those future damages must also be addressed in an insurance settlement.
How Should I Handle an Insurance Company After a Kentucky Pedestrian Accident?
Insurance companies use several strategies to convince unsuspecting victims to accept less than what they should be getting after an accident. They try to frustrate and confuse pedestrians who have been injured and work to encourage them to give up their expectations to get what's fair for what they've suffered. These are just a few of the tactics a personal injury lawyer can identify and defend you against:
Calling for a recorded statement. The driver's insurance adjusters will phone you to ask for a recorded statement about what happened. Politely say no. They want you to talk about the accident and your injury in the hopes you'll say something they can twist around later to discredit your case. Allow your personal injury attorney to handle these calls and all communication with insurance companies.
Playing the blame game. Insurance adjusters like to question their driver's role in your accident, even when an officer's collision report is clear on who was at fault. They may try to get you to accept a small portion of the blame or all of it in order to help save their companies thousands of dollars. Your personal injury attorney will fight to see that you don't have to accept any responsibility for what happened.
Offering Lowball Settlements. Insurance adjusters like to keep you waiting on a response after you submit a claim. They do this to let you sit with your unpaid hospital bills while missing paychecks at work. They want you to be desperate when they extend a "lowball settlement" offer. These offers are far below what your case is worth and leave you paying for a large portion of your recovery out of your own wallet. Your personal injury lawyer will call the insurance company out on this bad faith behavior.
Will I Have To Appear In Court After a Pedestrian Accident?
Usually, a trial isn't necessary. Only a small percentage of personal injury cases end up in court. Insurance companies like to avoid court appearances if at all possible. Before you file a lawsuit, your attorney will contact the insurance company and both parties will work toward a settlement. If the parties don't reach a settlement, then they can file a lawsuit. However, a settlement is still possible even while a trial is underway.
What If I Was Outside of a Crosswalk When I Was Hit?
Drivers owe pedestrians the utmost care no matter the circumstances, so drivers often bear liability even when a pedestrian was crossing the street outside of a crosswalk or made an error in judgment. Victims on foot shouldn't be afraid to ask for support even when they were partially to blame for their injury. Kentucky is a comparative negligence state and that means drivers and pedestrians can share fault in an accident. You may have contributed to your collision, but you can still seek to get financial support with your recovery. You could receive an award of compensation, but keep in mind, they would deduct your percentage of the blame.
Contact a Pedestrian Accident Lawyer Serving Kentucky
With so much foot traffic each day, cities and towns across Kentucky must strive to keep pedestrians safe wherever they walk. Pedestrian safety is everyone's concern. Remember, anytime we park and get out of our cars we become pedestrians ourselves. When an act of carelessness causes someone on foot injuries, it's important to demand every bit of support available. The victim should be able to pay for the best care available and rebuild their finances after a debilitating accident. Kaufman & Stigger, PLLC, stands by Kentucky pedestrian accident victims and ensures they have what they need to get back on their feet again. The attorneys at Kaufman &  Stigger, PLLC, have a combined 100 years of
experience
helping clients hold insurance companies fully accountable. To discuss your case, contact Kaufman & Stigger, PLLC today, by clicking
here
to contact them online.
Frequently Asked Questions
How much is my pedestrian accident case worth?
Attorneys can't estimate how much pedestrian accident victims should receive before they've been able to assess the unique factors of their cases. There are factors that do contribute to high-value accident cases. How severe the injury is and how long recovery takes play key roles in how much support you'll demand. The amount of time you miss at work, if you are able to ever return to work, will also boost the value of an insurance settlement offer. Insurance limits the at-fault driver's policy carries will serve to restrict the support you can expect.
How long do I have to file my pedestrian accident claim in Kentucky?
Victims have one year to file a claim for damages over injuries and two years to file a property damage claim. This is the statute of limitations, per Kentucky law. If you file after the two years is up they will likely dismiss your case unless there are special circumstances. Working towards filing as soon as you can is beneficial to you and your attorney. It'll be easier for you and your lawyer to gather evidence and documents needed to prove your case. You can also hope to negotiate a fair settlement sooner to receive the financial support you need.
What if I am hit by a truck driver or rideshare employee?
Getting struck by a professional truck driver or a rideshare driver for companies like Uber or Lyft gives pedestrian victims additional options when seeking compensation. Victims would consider filing claims against the drivers and the companies that hired them. Filing claims against multiple insurance providers give victims a better chance of earning enough support to pay all of their bills.