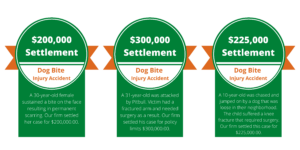 According to the U.S. Centers for Disease Control and Prevention, about 4.5 million people are bitten by dogs every year. Of those, more than 800,000 require medical treatment for their injuries. For the unfortunate victim of a dog bite, Kentucky law is favorable. There's no "one free bite" rule. Even if a dog hasn't shown any propensity to be aggressive, and the owner used reasonable care in controlling the dog, the owner is liable for any damages resulting from an attack. Not only is the dog's owner strictly liable for all damage to a person, livestock or a victim's pet, but that victim or any other person can seize or kill a dog that is seen attacking a person. If a dog is determined to be dangerous, it's required to be secured and kept away from humans.  Were you injured by a dog and have questions for a lawyer?  Call today, 859-388-9393.
The Controlling Statute
Kentucky's dog bite statute is found at section 258.235 of the Kentucky Revised Statutes. Under the statute, a dog owner's liability isn't just limited to bites. If your aunt comes to visit, and your dog is happy to see her and jumps up on her and knocks her down and injures her, you can be held liable for your aunt's broken arm.
Common Dog Bite Injuries
As established and experienced personal injury lawyers, we see certain dog bite injuries more than others. Here are some examples:
Deep and severe lacerations and punctures.
Fractured and crushed bones.
Muscle and nerve damage.
Infections.
Scarring.
Rabies.
Damages
Kentucky dog bit law doesn't limit liability for damages. If a dog's owner is held liable for an attack, liability for damages can be like any other personal injury case. Those damages can include the following:
Past and future medical bills.
Past and future lost or diminished earnings.
Any permanent disfigurement.
Any permanent disability.
Pain and suffering.
Diminished enjoyment of life.
Comparative Negligence
Although Kentucky is a strict liability dog bite state, if the victim teased, provoked or scared the dog that bit him or her, that victim can be determined to be comparatively negligent. The percentage of negligence attributable to the victim is then deducted from their damages award. For example, if a dog bite victim was determined to be 20 percent negligent with a gross award of $10,000, the actual award would be reduced to $8,000. A child under the age of seven cannot be found to have been comparatively negligent.
Statute of Limitations
There is a short window of opportunity for filing a dog bite lawsuit in Kentucky. It must be filed within one year of the date of the attack. If filed later than one year from the date of the attack, the lawsuit is likely to be dismissed, and the opportunity to obtain compensation is closed. There are few exceptions to this rule. One of them involves minors, but you'll still want to speak with us right away after a child is injured in an attack.
Kaufman & Stigger Dog Bite & Animal Injury Settlements
Below are a few of our client dog bite settlements.
Settlement: Dog Bite Injury Accident $300,000.00 Policy Limits A 31-year-old was attacked by Pitbull. Victim had a fractured arm and needed surgery as a result. Our firm settled his case for policy limits $300,000.00.
Settlement: Dog Bite Injury Accident $200,000.00 – A 30-year-old female sustained a bite on the face resulting in permanent scarring. Our firm settled her case for $200,000.00.
Settlement: Dog Bite Injury Accident $225,000.00 – A 10-year-old was chased and jumped on by a dog that had was loose in their neighborhood.  The child suffered from a knee fracture that required surgery.  Our firm settled this case for $225,000.00.
Settlement: Dog Bite Injury Accident $100,000 Policy Limits – A United States Postal Service employee was delivering a package at a residence.  The dog escaped from the home and attacked the USPS employee resulting in significant leg injuries. Our firm settled this case for $100,000.00.
Settlement:  Dog Bite Injury Accident $90,000 – A 3-year-old client was bitten on the arm and head and sustained multiple injuries.  Our firm settled this case for $90,000.00.
Settlement:  Dog Bite Injury Accident $75,000 – A 6-year-old client was bitten on the face by a dog resulting in injuries and scarring.  Our firm settled this case for $75,000.00.
Settlement:  Dog Bite Injury Accident $60,444 – A Fed Ex employee was bitten on the hand and injured by a dog while delivering packages.  The dog owner was unable to provide proof of vaccination requiring our client to get a series of 4 rabies shots. Our firm settled this case for $60,444.00.
Settlement:  Animal Injury Accident $49,500.00 – A sheep escaped from a neighboring property and charged our client resulting in knee injuries.  Our firm settled this case for $49,500.00.
Lexington Kentucky Dog Bite Lawyer
If you're searching for a Lexington dog bite lawyer, contact our offices to arrange for a free consultation and case review. You won't be alone during this physically and emotionally difficult time. We're an aggressive and effective personal injury law firm. It won't cost you a single penny to retain us either. That's because we don't get paid any legal fees at all unless we obtain a settlement or verdict for you. Remember, there's no "one free bite" rule in Kentucky. Owners are strictly liable for any injuries that are inflicted by their dog.