If you have been injured in a Lexington KY tractor trailer accident, contact us right away to speak to one of our attorneys who specializes in trucking accidents.  The average car weighs 4,000 pounds and a fully loaded truck can weigh 80,000 pounds.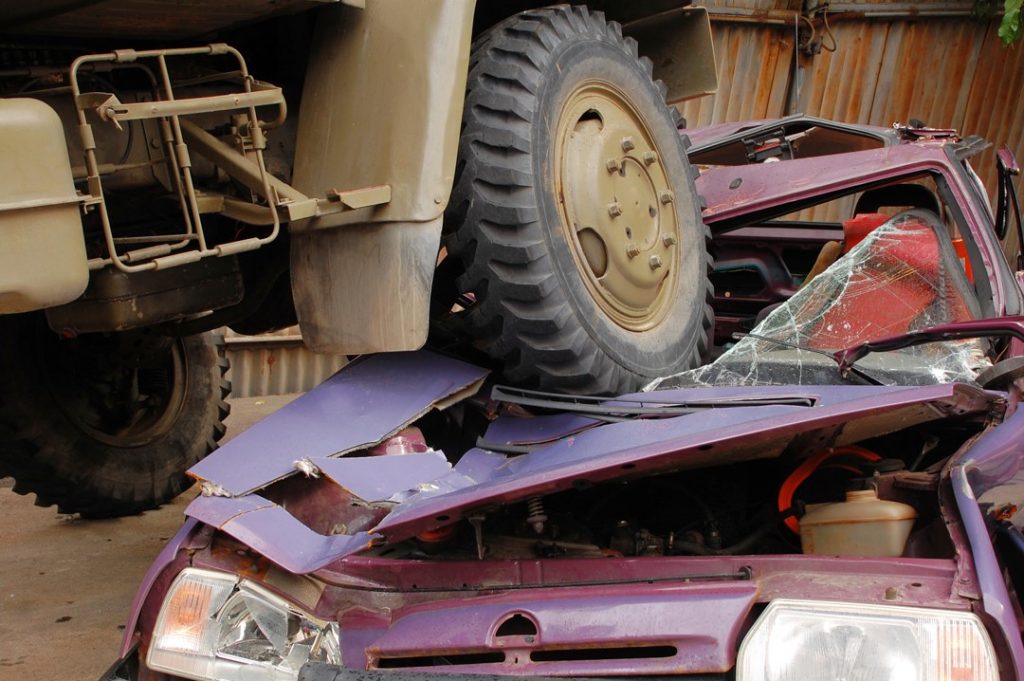 These accidents can be devastating and deadly. The truck company lawyers will likely be working to minimize their payout shortly after the accident.  You need lawyers protecting your interests before evidence is lost.  You can call or Live Chat now.

The call is always free, and you will never pay us a penny, unless we win or settle you case.  A fully loaded tractor-trailer can be more than 70 feet long and weigh up to 80,000 pounds. On dry a dry road, it's going take a tractor-trailer up to 40 percent longer to come to a complete stop than a passenger vehicle, especially if the truck is on an Interstate such as I-75 or I-64 which pass through Lexington Kentucky.
The most recent ascertainable national truck accident statistics are from 2016. According to the Insurance Institute for Highway Safety, 3,986 people died in large truck accidents in the United States that year. Of those, 66 percent were occupants of passenger vehicles, while 16 percent were motorcyclists, bicyclists or pedestrians. Truck occupants comprised 17 percent of the fatalities.
Injuries
More than 120,000 other people were injured in 18-wheeler crashes in 2016. Those injuries included brain damage, spinal cord damage, crush injuries, amputations, organ damage, multiple fractures, burns and permanent scarring. Nobody who suffers severe injuries in a truck accident that he or she didn't cause should be responsible for the burden, expense and emotional anxiety that come as consequences of the crash. A successful truck accident claim or lawsuit can be pivotal in securing the compensation necessary for payment of medical bills, reimbursement of lost earnings, pain, suffering, disfigurement and disability.
Common Causes of Large Truck Crashes
The Federal Motor Carrier Safety Administration performed a causation study on large truck accidents that was based on a nationally representative sample of both injury and fatal crashes that involved large trucks. It found that some of the most common causes of large truck crashes included:
Consumption of prescription and illegal drugs.
Driver fatigue and drowsiness.
Speeding or driving too fast for traffic or weather conditions.
Lane change accidents due to large blind spots.
Load shifts due to improper loading.
Improper vehicle maintenance involving brakes and tires.
Road unfamiliarity.
Preserve the Evidence
Weight, speed, lack of maneuverability, momentum and long braking distances factor into all truck crashes. Due to the massive size and weight of tractor-trailers, catastrophic injuries or fatalities often result when they're involved in collisions. When an 18-wheeler crash occurs, the insurer of the truck moves quickly. It typically sends investigators to the scene to gather any evidence that might be in favor of the trucking company and protect the insurer from significant financial exposure. You need to act quickly too. As soon as we're retained to represent you or your family member who you lost in a truck crash, we'll start our own investigation in order to assure that critical evidence isn't lost or destroyed. Here's just some of the evidence that we examine when building a large truck accident case:
Statements of occurrence and post-occurrence witnesses.
Physical evidence from the vehicles involved.
The truck's electronic data recorder.
Log books and cargo records.
Vehicle maintenance records.
Driver employment and training records.
Results of any drug or alcohol tests.
Phone records.
Any camera footage.
Who Might Be Liable?
We already know that tractor-trailers are enormous and complicated pieces of machinery. That's one of the reasons why they're regulated by both state and federal laws. Liability depends on the facts and circumstances surrounding your case. Our Lexington truck accident attorneys might seek compensation for damages from the truck driver and his employer, a loading company, the manufacturer of a defective part that caused the crash, the garage that failed to properly repair the truck or the drivers of any other vehicles if the crash involved more than two vehicles. Our objective is to maximize any compensation that you might receive. In your claim or lawsuit, we want to include every entity that we believe contributed to your accident and injuries.
Contact a Lexington Truck Accident Lawyer Today
We're compassionate, experienced and effective personal injury lawyers. A thorough understanding of the laws that trucking companies and their drivers must comply with gives our Lexington truck accident lawyers distinct advantages in truck accident injury and wrongful death claims and lawsuits. If you were injured in a tractor-trailer crash, or a family member died in one, you can contact us to arrange for a free consultation and case evaluation. We'll listen to you carefully and answer your questions thoroughly. Then we'll advise you on your legal options. You don't need to pay a single penny in advance to put us to work on your case either. If we enter into a retainer agreement to represent you, no legal fees at all will be charged unless we obtain a settlement or verdict on your behalf. Remember that the opposing insurer is going to have its team of investigators active on the case right away. You'll want us working for you right away too.