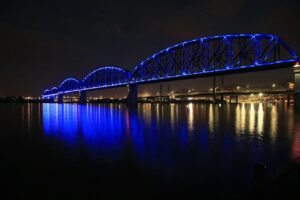 It's important that Kentucky drivers get regular reminders of the hazards they can face when they travel. Assessing where we are as far as traffic safety is especially important in 2021 after such a difficult and strange couple of years.
2020 was shaped by a pandemic and saw highways and interstates sit empty through the early days of quarantine. In many places, fewer accidents were reported as a result. 2021 marked a cautious return to full traffic levels in places like Lexington and Louisville, but the hope was that some of that 2020 traffic calming carried over to the new year.
We took a look at some of the most important roadway indicators collected so far this year to find out if Kentucky drivers found safer travel in 2021
US DOT First Half of 2021 Car Accident Report
The US Department of Transportation (USDOT) released a report detailing auto-accident levels over the first half of 2021. The numbers were not positive nationally, especially when examining figures for accidents that involved the loss of life.
An estimated 20,160 lives were claimed across the nation in the period from January to June this year. The heartbreaking number is a shocking 18.4 percent increase over 2020's first half accident numbers when 17,020 lives were reported lost. In fact, 2021's deadly accidents are the most over the first half of a year since 2006.
Kentucky 2021 Year To Date Accidents
These sad numbers should be a wake-up call to all motorists and especially those traveling Kentucky roads. According to the Kentucky State Police (KSP), we lost 780 Kentuckians in 2020. That number could be surpassed when 2021 numbers can be officially tabulated.
As of early December 2021, the Kentucky Office of Highway Safety (KOHS) reported 725 traffic fatalities for the year. At the same point in 2020, Kentucky had reported 727 victims lost in accidents.
Lexington Accident Data So Far in 2021
Lexington can take some hope in the fact that accident numbers appear very much in line with 2020 collision figures. That steady rate is good news when compared to 2019 statistics.
Through October of 2021, the Lexington Police Department has reported 11,898 collisions in the city. That's very much on par with the data in 2020 looking at crash reports through October. Through October of last year, the police department had documented 11,819 accidents.
The news isn't as good where fatal accidents are concerned. Through October of 2021, the year has marked the tragic deaths of 36 people. Last year at this time that number stood at 21 deaths.
Here's a look at the drop in accident levels in Lexington since 2019, as well as an unfortunate rise in fatalities: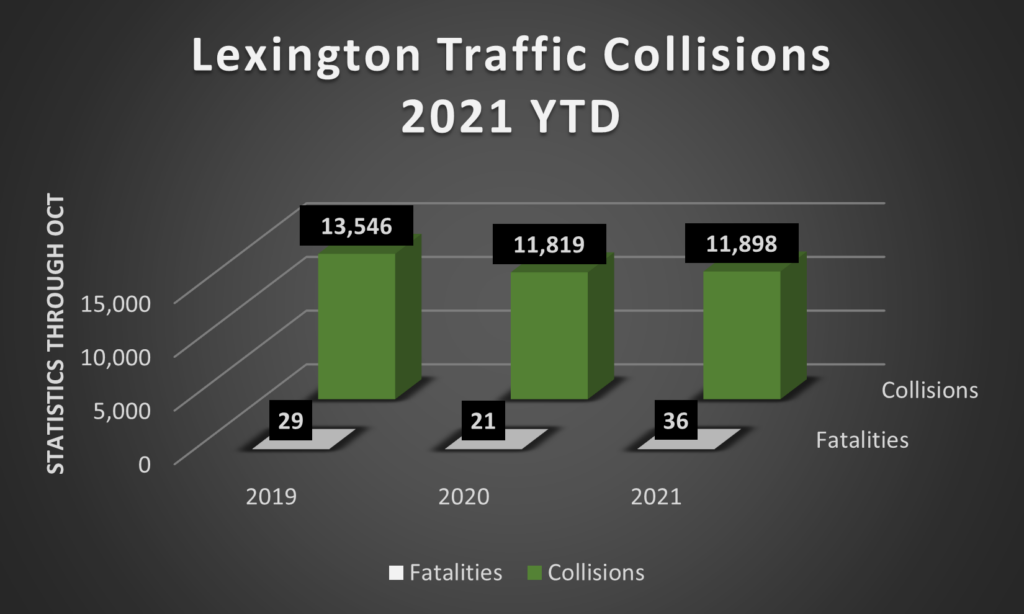 Louisville Accident Data So Far in 2021
As of early December of 2021, the KHOS had recorded 155 fatal accidents across the Louisville Highway District patrolled by the Kentucky State Police. There were also 16 fatal motorcycle accidents documented so far this year.
We'll have to wait on more exact counts once 2021 is comes to a close to view the changes from year to year in accident rates in Louisville.
Vision Zero Louisville does keep track of accidents along the worst highways and roads in the city. So far this year, their unofficial total has recorded 47 accidents along Dixie Highway. The highway is the leader every year in car accidents in Louisville. The Preston Highway is the only route that comes close in respect to traffic dangers. As of late in 2021, the Preston Highways has been the scene of at least 31 collisions.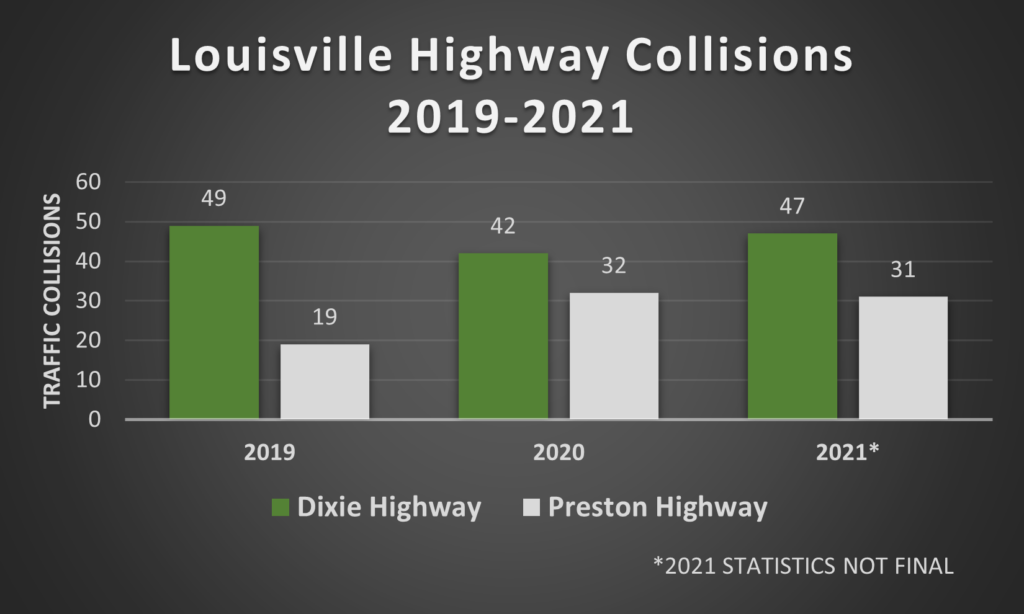 The Louisville area has had a particular problem with wrong-way crashes in 2021. WHAS11-TV reports there had been at least three accidents involving a wrong-way driver in Kentuckiana (counties in Indiana and Kentucky near Louisville) in October alone, and at least 12 in total so far across 2021.
It's part of a national rise in wrong-way crashes over the last decade. AAA says wrong-way crashes are up 34% since their last study. AAA data shows from 2010 and 2018, there were 3,885 deaths from wrong-way crashes in the United States.
Researchers say drivers impaired by alcohol are often to blame for this very dangerous roadway mistake. Around 60% of wrong-way crashes involve a drunk driver.  In 2020, the KSP recorded 4,978 accidents involving alcohol use, leading to 181 fatalities and leaving over 2,600 people with injuries.
Working Towards a Safer 2022 on Kentucky Roads
We hope that by highlighting the dangers that Kentucky drivers have already faced this year and will continue to face over the holidays, we can all work towards safer travel in 2022.
When you or a loved one are the victims of a careless motorist anywhere in Kentucky, it's important that you are aware of your rights and the benefits available to you and your family. You can visit our informational page about what to do if you're in an accident here.