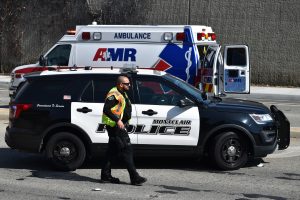 Russell Cave Road in Lexington may not be an interstate, but local drivers can treat it like one. They can make careless moves and travel way too fast on the two-lane and four-lane sections of the road.
Motorists can also ignore traffic signs and make risky turns into traffic to put drivers and passengers at risk. One mistake can put vehicles traveling at full speed in danger of a collision that results in major injuries.
One Person Hospitalized After U-Turn Collision in Lexington
One victim was transported to the hospital after two cars collided during an attempted U-turn in Lexington Sunday afternoon. WTVQ-TV reports the accident occurred on Russell Cave Road at around 12:47 p.m. on May 22, 2022.
Lexington police say one vehicle was attempting a U-turn. Another driver didn't see the vehicle and collided with it. One person involved was taken to the hospital with serious injuries that were not believed to be life-threatening. There were other minor injuries reported.
Police say they arrested the driver of the car that hit the turning vehicle for driving without a license and for an outstanding warrant. The circumstances of the accident are still under investigation.
Seeking Help for Injured Victims After a Lexington Accident
Accident victims hurt by another motorist's mistake should never have to face the costs of their recovery alone. Hospital bills and unpaid car payments and monthly rent can pile up as patients lose valuable income at work while trying to heal.
The at-fault driver's auto insurance provider should be fully responsible for any time spent in recovery. And if medical care and physical therapy are expected to be necessary in the future, those expenses should be covered for the victim as well.
Victims can improve their chances of securing fair compensation by filing a claim for damages with the help of a Lexington personal injury attorney. A personal injury attorney alerts clients when insurance companies are attempting to pay them less than what is fair for their recovery and fights for more.
Contact a Car Accident Attorney Serving Lexington Victims
Allow a Lexington Car Accident Attorney to secure evidence and testimony to build a strong case that an insurance company will have a difficult time challenging.
The attorneys at Kaufman &  Stigger, PLLC, have an extensive background in protecting the rights of accident victims in Kentucky and earning them the compensation they need in recovery. To discuss your case in a free case evaluation session contact Kaufman & Stigger, PLLC today.