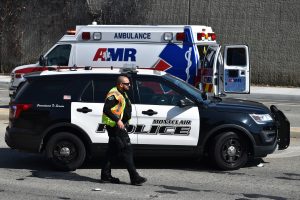 Traveling after dark can put drivers in hazardous situations, especially when lights from cars can confuse the mind about how close a car really is. An error in judgment can put multiple vehicles in harm's way before anyone can react.
The Kentucky State Police found that around 40% of accidents in the state in 2019 happened at night, or right at dusk or dawn. Nelson County sees these dangerous accidents all year long. In 2019, the county saw 284 people injured in accidents and another 13 tragically killed.
Bardstown Deadly Accident
A two-car crash tragically claimed a driver's life on Saturday evening in Bardstown. The Nelson County Gazette reports the accident happened around 6:50 p.m. at the intersection of US31E, Louisville Road, and Flamingo Drive on December 12, 2020.
Bardstown Police Officers say a northbound Kia Optima struck a Dodge Challenger that was attempting a left turn onto Louisville Road. There were several victims injured and taken to the hospital. On Sunday, word came that the driver of the Kia died of injuries sustained in the crash.
The victims have not been identified and the factors that led to the crash have not been released.
Support for Nelson County Accident Victims
Accidents can affect so many lives in the aftermath of a crash. The victims of collisions can face long, difficult recoveries from injury, and families can be left to grieve the loss of loved ones. Unfortunately, financial hardships can also be a worry as hospital bills, funeral costs and lost wages at work threaten to bankrupt victims and their loved ones.
For families who have lost a close relative, a wrongful death claim can be filed against the driver responsible. This civil lawsuit would be leveled against the driver's insurance policy and seek help with ambulance fees, funeral costs, and can even provide for all of the financial and emotional support the victim's spouse and children will be without in the years to come.
For victims who survive and are working to get back on the feet, a claim for damages against the at-fault driver's auto insurance policy can be made. This claim can help with hospital bills and any medical care expected in the future. It can also provide for victims when paychecks aren't coming in.
In either case, an attorney working to protect victims and their families after accidents can make sure insurance companies are forced to provide everything they'll need to rebuild their lives.
Contact a Kentucky Car Accident Attorney
Accident victims and their families can wonder if they need an attorney after a devastating accident, and the answer is almost always yes. Insurance companies can ignore the physical and emotional pain that accidents can cause. A lawyer working for your family can make sure every need is seen too, not just now but in the future too. Talk to someone in Kentucky you can trust to be on your side and fight for your fair compensation
The attorneys at Kaufman &  Stigger, PLLC, have a combined 100 years' experience in helping victims and families get the compensation that's fair for what they've been through. To discuss your case contact Kaufman & Stigger, PLLC today.