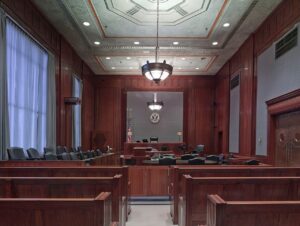 Millions of people enjoy living, working, and taking time off in the beautiful state of Kentucky. It's a great place to take in some natural wonders and enjoy the excitement of cities like Louisville and Lexington. Yet, like any state, there are personal injury dangers to be aware of.
A careless driver on Interstate 64 might rear-end your vehicle and send you into a concrete barrier. An employer might subject you to an unsafe workplace or leave you vulnerable to harassment.
Victims in need of real support file personal injury claims each year in Kentucky. In some cases, at-fault parties are forced to accept full responsibility for the damages they cause. And in some instances, they are punished further for their level of carelessness that allowed victims to get hurt. These verdicts allow victims to receive justice and rebuild their lives.
Some of the Biggest Kentucky Personal Injury Awards of the Past Five Years
Kaufman & Stigger, PLLC, of Kentucky used VerdictSearch.com data to highlight some of the biggest personal injury settlements, jury verdicts, and judgments awarded in Kentucky recently.
These figures can illustrate the types of awards that are sometimes available to personal injury victims. They are also sometimes a gauge of the support that victims can lose out on if they don't explore their legal options after an accident or injury.
1.     Paving Defects on Road Led to Deadly Accident in Boone County – $74,000,000 Verdict –
A tragic 2019 accident in Walton, KY along Richwood Road killed 45-year-old Amy Skiba and injured her twin children. The accident was sparked when Darrin Carroll lost control of a Chevrolet flat-bed truck after its tires went off a raised edge of the road. Lawyers for Amy Skiba's family argued this dangerously raised edge was left by road construction work done by Eaton Paving Company. In July of 2021, a jury in Boone County Circuit Court placed all of the blame on the road contractor. They awarded the children of Amy Skiba $8 million for each child's loss of their mother and their emotional distress and an additional $50 million in punitive damages.
2.     Miners' Black Lung Due to Respirator Design Flaw, Knott County — $67,500,000 Verdict –
Two former Kentucky coal miners with black lung were awarded $5 Million for their pain and suffering already endured and for the pain and suffering expected in the years ahead. The remaining award amount came from punitive damages leveled against 3M for their defective dust masks. A Knott County Circuit Court Jury handed down the verdict in April of 2018. Lawyers for the plaintiffs earned a victory for their clients by filing claims of product liability and alleging design and marketing defects.
3.     Impaired Motorist Causes Deadly Accident in Lawrenceburg KY – $32,144,972 Verdict –
In September of 2012, a 43-year-old woman was killed while traveling on Highway 62 in Lawrenceburg. A man driving a dump truck in the opposite direction struck her car head-on. Marie Garmon was a hospice nurse returning from visiting a patient at home when the accident occurred.  She died five days after the collision. The truck driver tested positive for marijuana use. He was sentenced to six years in prison after facing DUI and murder charges. The lawsuit was leveled against the truck driver and the driver's employer, Atlas Excavating & Trucking. Evidence presented in the trial showed that Atlas Excavating had not given the driver a pre-employment drug screening. In October of 2019, an Anderson County Circuit Court Jury awarded the estate of the victim $32 million which included $10 million in punitive damages.
4.     Workers Fired from Louisville's Charter Communication Defamed by Company – $9,450,000 Verdict
In 2013, seven employees at a Louisville Charter Communication call center were fired for violating company policy. After the firing, the incidents were mentioned in an employee conference and the dismissals were associated with other unrelated investigations within the company. The former employees sued for defamation. Their attorneys argued that the defamatory comments went as far as to associate their clients with other employees who had been fired for embezzlement and drug use. The plaintiffs claimed the incident caused them emotional distress and affected their abilities to secure other jobs. In April of 2018, the seven former employees were each awarded $350,000 in compensatory damages and $1 million in punitive damages against Charter Communications.
5.     Nursing Home Negligence Allows Patient to Choke to Death in Paducah KY — $5,000,000 Verdict –
An 84-year-old woman choked to death while eating at Superior Care Home facility in Paducah. The resident, Regina Tallent, suffered from Parkinson's disease and macular degeneration, and she was supposed to be on a soft diet to avoid choking hazards. Lawyers for the victim's estate argued Superior Care Home was guilty of negligent supervision and negligent training of its staff members. In January of 2020, a McCracken County Circuit Court jury unanimously approved $1 million in compensatory damages for the victim's estate and assessed $4 million in punitive damages against the nursing home company.
Finding Support for Kentucky Personal Injury Victims
If you've been the victim of a car accident, or mistreatment at work, you should speak to Kaufman & Stigger, PLLC, of Kentucky about your legal options. If you have a loved one who's become the victim of nursing home abuse or any other personal injury, please speak to a skilled Kentucky personal injury lawyer about all of the benefits available to you.
Contact the legal professionals at Kaufman & Stigger, PLLC, to schedule an absolutely free case consultation. It's a confidential way to determine what your case may be worth and how to make sure those at fault cover every cost of recovery.