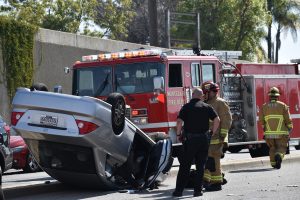 Busy highways around Louisville and Jefferson County can be dangerous places for even the most careful motorists.
Distracted drivers can look down at a cell phone text or email and not realize how far their car has traveled off course. Excessive speeds used by a reckless driver can magnify a small mistake and send a vehicle out of control and into other traffic.
These collisions can be devastating for victims and cause severe injuries and, in the most heartbreaking cases, claim lives.
One Man Tragically Killed in a Two-Vehicle Accident Along Dixie Highway
One driver lost his life and another was injured after a Friday afternoon collision in southwest Jefferson County. WLKY-TV reported the accident occurred around 5:15 p.m. along Dixie Highway near Katherine Station Road outside of West Point on July 9, 2021.
The two-vehicle accident appeared to involve a pickup truck and an overturned white SUV or Minivan.  The Louisville Metro Police Department says a man behind the wheel of one of the vehicles was pronounced dead on the scene. The driver of the other vehicle was taken to the hospital with injuries.
Louisville Metro Police investigators have not identified the victims or released what they believe led to the crash.
Support for Victims And Families After a Jefferson County Accident
Families can be left with confusion and grief after a terrible accident. A loved one's life has been taken due to the negligence of another driver. This period will be very emotionally difficult for close relatives and, unfortunately, relatives can also face financial issues very soon after a tragedy.
Kentucky Law allows close family members to file a wrongful death claim against the car insurance provider representing the at-fault driver. This claim can assist with the cost of a memorial service and burial as well as pay off any emergency response fees. A wrongful death lawsuit can also demand help in replacing the financial support the deceased will no longer be able to provide the family in the years to come.
For victims still recovering from a bad collision, a claim for damages can be filed against the at-fault driver's car insurance company. This claim asks for assistance with every hospital bill the victim receives as well as compensation for the lost wages as a victim misses more and more time at work.
Contact a Jefferson County Car Accident Lawyer
Victims and their families can quickly face unhelpful insurance adjusters who won't make it easy to earn fair support after an accident.
The attorneys at Kaufman &  Stigger, PLLC, have a long history of assisting victims and families in rebuilding their lives after a terrible accident. Contact Kaufman & Stigger, PLLC today for a free and confidential consultation. Find out how best to fight back when insurance companies start to treat you and your family unfairly.