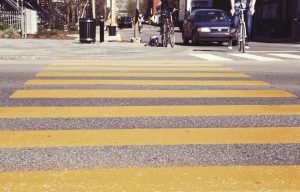 Parts of Louisville provide pedestrians with less than safe paths to get where they need to go. Narrow sidewalks and with some intersections not equipped with full crosswalks, anyone on foot can fall victim to the constant rush of traffic.
The threat level rises as the sun fades when drivers should display extra caution for any pedestrians traveling nearby. Sadly, low visibility doesn't mean drivers offer the extra attention needed to spot those on foot. A driver's mistake can lead to an unprotected pedestrian taking a powerful impact from a vehicle and suffering very serious injuries.
Pedestrian Badly Hurt in Tragic Weekend Louisville Hit-And-Run
A man was struck by a car in Louisville's Crescent Hill neighborhood on Saturday night. WLKY-TV reports the accident occurred shortly before 8:30 p.m. at the intersection of Hillcrest Avenue and Brownsboro Road on September 11, 2021.
Louisville Metro Police say they found a male victim in the roadway. He was rushed to the University of Louisville Hospital in critical condition.
Investigators say the unidentified vehicle involved did not remain on the scene. Police officers say that anyone with information on the hit-and-run suspect or vehicle involved should call them.
Finding Assistance for Victims After Louisville Pedestrian Accidents
Pedestrian victims can find themselves in the hospital with serious injuries and then be told the driver who hit them hasn't been identified. This tragic news can bring added stress to victims and their families. Who will pay for the costs of recovery? Will justice be served?
When guilty drivers avoid identification, victims may be required to call upon their own auto insurance policies to get financial support while they recover. Their own uninsured motorist coverage may provide money for hospital bills and be able to replace the lost wages suffered while victims are out of work.
If there's positive news and a hit-and-run driver is apprehended, a claim for damages can be filed by the victim or his or her family against the driver's auto insurance provider. The hit-and-driver will be facing criminal court proceedings, but the victim's civil claim would be resolved separately.
Contact a Louisville Pedestrian Accident Lawyer
Unfortunately, pedestrian victims must often confront their own car insurance company or the driver's insurance provider to demand basic support after an accident. Insurance companies have a list of tactics they use on victims and their families to try to limit the support they have to provide. Allow a Louisville Pedestrian Accident Attorney to protect you from these bad faith practices.
If the mistake of a careless driver hurt your or a loved one contact Kaufman & Stigger, PLLC, today for a free and confidential consultation. Our attorneys allow victims the time they need to heal, while we work to secure the support needed to prevent them from struggling financially now and in the future.